The last day of our weekend Tokyo trip saw us at Tempura Kondo (てんぷら近藤), a 2 Michelin starred restaurant specialising in Tempura. Kondo was apparently the first choice of PM Abe (not the famed Sukiyabashi Jiro すきやばし次郎) when he hosted Obama in 2014 but Kondo was fully booked that particular evening and refused to cancel any reservations. How true? I don't know.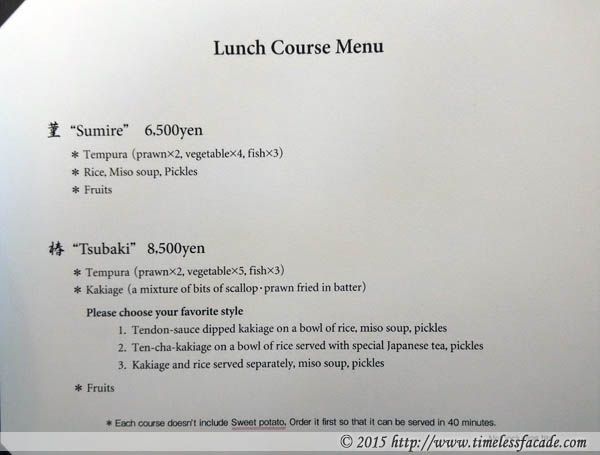 The Place & Menu
Kondo is located on the 9th floor of the tiny Sakaguchi Building, just a 5 minute walk from Ginza Station. The correspondingly cramp elevator opens up to Kondo's entrance where you wait to be seated at one of the 2 dining areas; both with 15 counter seats around the cooking area where you get to witness first hand your food being prepared and fried.

The wife wasn't ravenous so she went with the "Sumire" set while I persisted with the "Tsubaki" set. Do note that the famed sweet potato tempura is a separate order and has to be ordered at the start of your meal as it takes a while to prepare. While stocks last.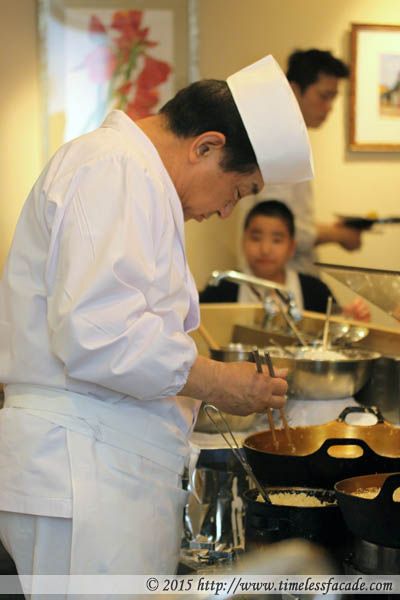 Preparation & The Master Himself At Work
The apprentices seem mostly in charge of food preparation and plating the piping hot tempura items while the master himself, Kondo-san, is in charge of the batter and frying.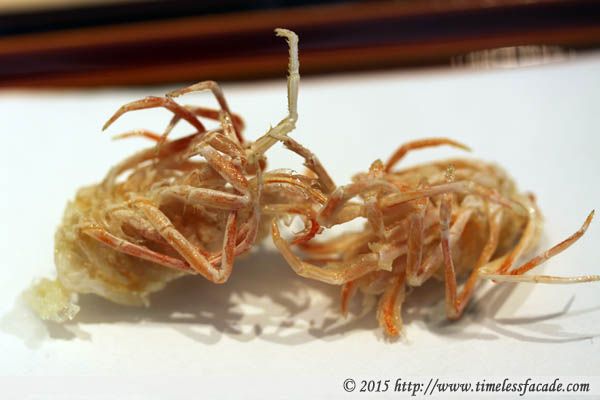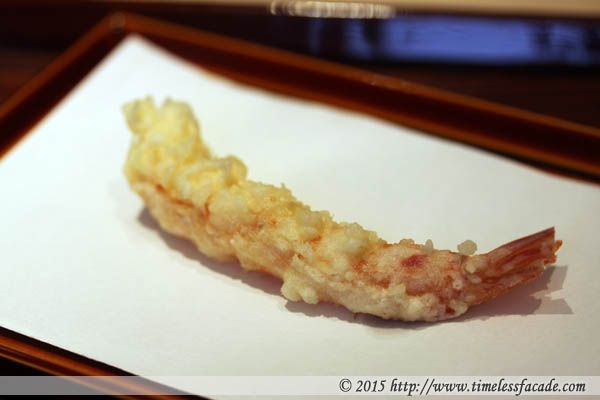 Prawn
We started off with prawn legs, fried to a crisp in an ethereally light batter, each bite oozing sweet crustacean flavour without so much as an inkling of grease. The body followed, coated in the same seemingly oil free, light as air batter and showcasing the freshness of the prawn and its firm texture.
Asparagus
A huge, singular stalk of asparagus encrusted with light batter that didn't compromise the naturally light sweetness of the asparagus. Dipped in tentsuyu for a light umami taste with an added roughness from the grated daikon radish.



Lotus Root
Irresistibly crunchy with clean, simple flavours and the batter giving it an additional crisp; the texture was reminiscent of chestnut, albeit a little harder. I'm usually partial to lotus root but this was good.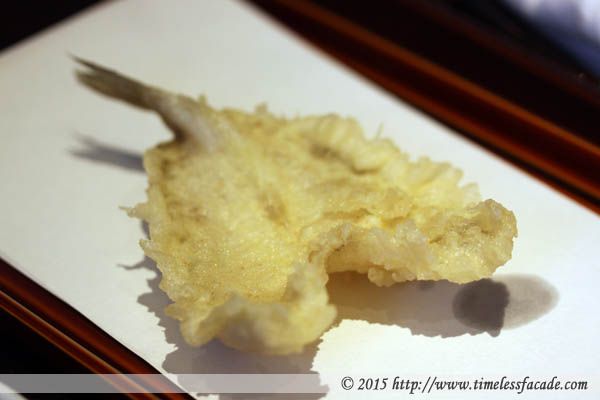 Kisu
The kisu (Japanese whiting) sported soft but relatively sweet flesh and a crisp exterior due to the batter. Do be careful about bones though; I bit into a small piece of bone towards the tail end.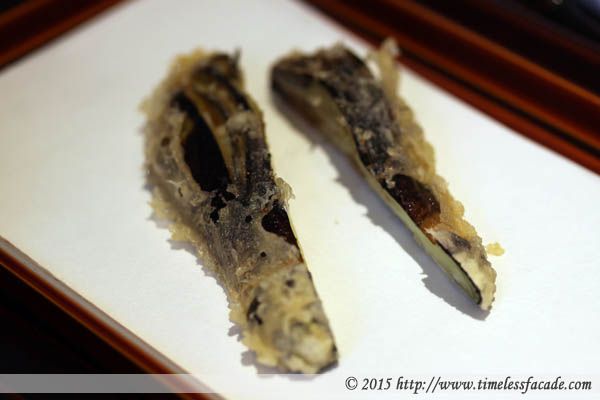 Egg Plant
Although eggplant (or brinjal, as it is known in some parts of the world) boasts some amazing health benefits, I generally dislike it. But this was surprisingly acceptable. I guess the batter helped in moderating the natural taste and usually mushy texture of the eggplant. Still not a fan though.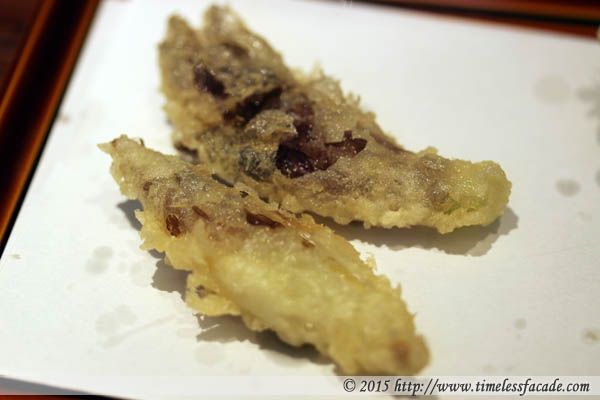 Myoga
This was one of the two differences between the "Sumire" and "Tsubaki" sets, with the latter having an additional vegetable dish - myoga or ginger flower. I absolutely dislike ginger so the "spiciness" was a little too overwhelming for me even with the batter and the tentsuyu.


Megochi
The megochi (flathead) had a firmer flesh as compared to the kisu and came across as naturally sweet and light with a crisp finish. Very good. Personally prefer this to the kisu.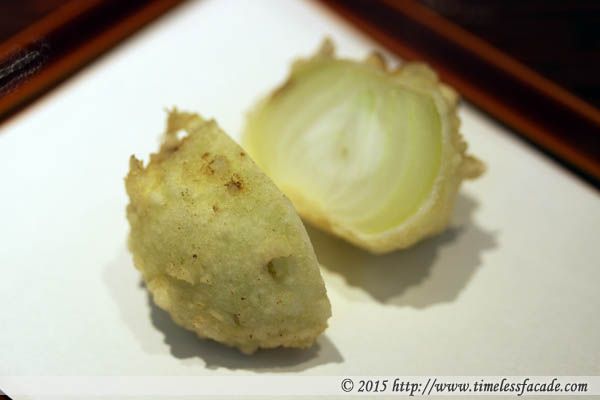 Onion
I've never had a tempura onion before so this proved to be rather interesting. A whole onion coated with batter, deep fried and sliced into half before service. The onion came across as a little crunchy and juicy whilst the batter helped contain the "spiciness" of the semi raw onion.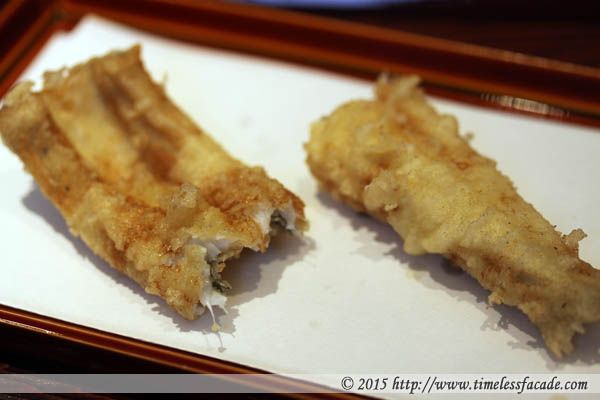 Anago
Fine and sweet flesh coupled with a crisp texture, what's not to like about the anago (salt water eel)?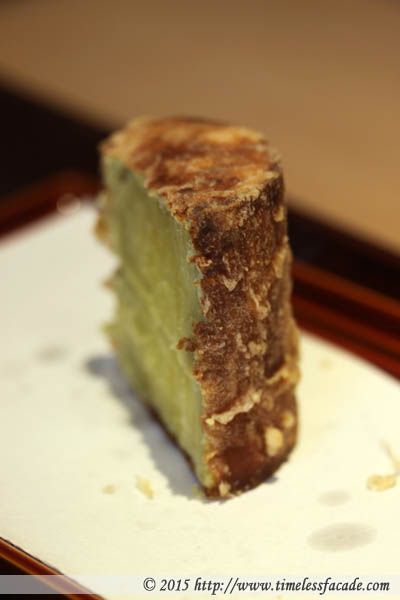 Sweet Potato
Kondo's signature sweet potato tempura (1200¥ + tax), a huge block of sweet potato encrusted with a layer of very crisp batter. Deliciously sweet but tasted more baked than deep fried. Though a tad dry, the flesh didn't crumble easily, which made for a rather smooth consistency. Overall a rather delicious dish but very very filling (carbohydrate overload)! One serving consists of 2 halves.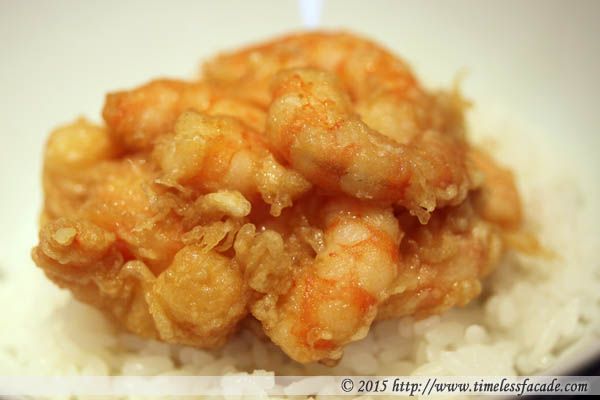 Tendon Sauce Dipped Kakiage
This was the second difference between the "Sumire" and "Tsubaki" sets. You get a choice of kakiage with rice. My tendon sauce dipped kakiage was chock full of fresh, crunchy prawns and light batter with its crispiness tempered by the lightly salty tendon sauce; served on a bed of plump Japanese rice. Very good!
Bill
At ¥17,496 (~ SGD 195) for a 2 pax lunch, Kondo offered a pretty good tempura experience at a relatively reasonably price, matched only by it's attentive service.
And it has officially dislodged
Mikawa
as the best tempura place I've tried thus far, if only by a small margin. On a side note, go for lunch, it offers more value for money and do remember to make reservations!
Final Verdict:
Ambience: 7/10
Service: 8.5/10
Food: 9/10
Value for money: 7.5/10
Overall: 8/10
Address: 9F, Sakaguchi Bldg, 5-5-13 Ginza, Chuo-ku, Tokyo (東京都 中央区 銀座 5-5-13 坂口ビ 9F)
Contact: +81-3-5568-0923
Opening Hours:
12:00~13:30(L.O.)
17:00~20:30(L.O.)
Closed on Sundays