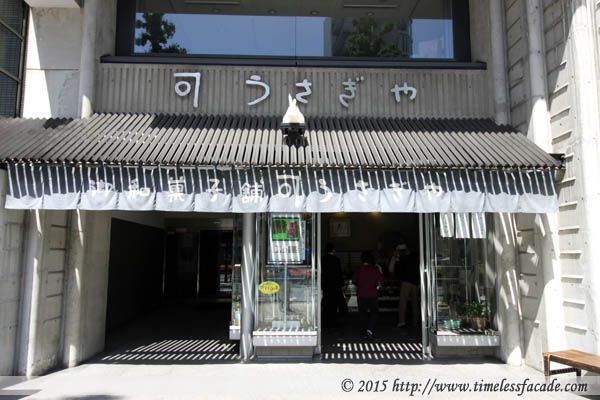 We had heard about one of Tokyo's oldest and most famous dorayaki (銅鑼焼) shop, Usagiya, and made the trip specially up north to get our hands on Doraemon's (小叮噹) favourite snack.


Interior
Located within Ueno and an ~ 400m walk from Yushima station, the shop is easy to miss as there are no signs in English. So look out for the white rabbit on the top of the roof. The shop is rather small and sparse and various sweets are showcased in the old wooden glass cabinets. The staff speak relatively decent English so you don't have to worry about ordering.
The Legendary Dorayaki
Chock full of sweet, whole azuki beans, wrapped in a soft, pillowy pancake that is made fresh daily, the dorayaki was excellent although I did find the red bean paste a wee bit too sweet. The shelf life for this is only two days and it's quite filling so do take those into consideration if you intend to purchase a substantial amount.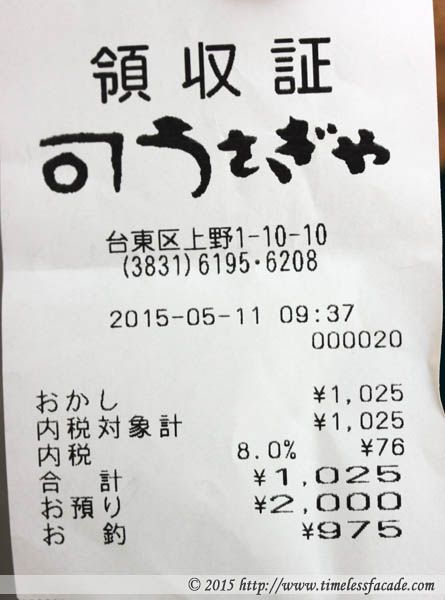 Bill
At ¥205 (~ SGD 2.30) a pop, it wasn't expensive and I personally found it very good value for money considering how much those prepacked ones are going at shopping malls/airport in Tokyo. One small tip though, they offer "bulk" discounts for purchases of 6 pieces or more. Sadly, I wasn't aware of this until after I made payment and I walked away with 5.


Final Verdict:

Ambience: NA
Service: NA
Food: 7.5/10
Value for money: 7.5/10

Overall: 7.5/10

Address: 1 Chome-10-10 Ueno, Taitō-ku, Tōkyō-to 110-0005 (東京都台東区上野1-10-10)

Contact: +82 2-738-8855

Opening Hours: 9:00 to 18:00. Closed on Wednesdays.

Website: http://www.ueno-usagiya.jp/