After our
first acceptably decent experience
at Bread Street Kitchen some 2 over months back, we were back with a couple of friends to see if things had changed for the better (or worse). Reservations for dinner were made well over a month in advance (gosh!) and no, we didn't get the promised window seats even though we arrived earlier than requested. The place was packed with people and very noisy from people trying to make themselves heard over the bar music.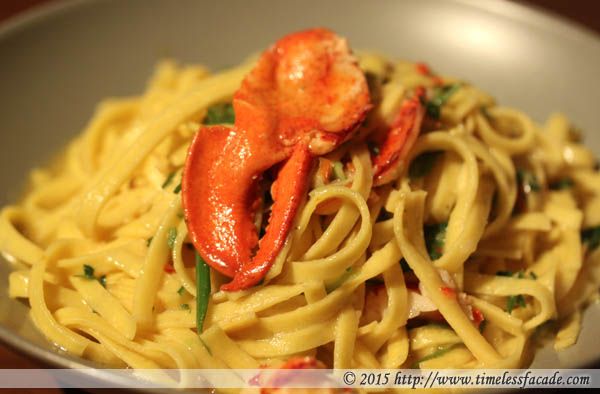 Tagliolini, Lobster, Chili, Spring Onions, Parsley and White Wine
We started off with something from the hot appetiser section, the lobster tagliolini. Small pieces of crunchy (but lacking in natural sweetness) lobster meat coupled with a less than al dente (tad overcooked) tagliolini that featured an almost overwhelming alcoholic taste to it and finished with a mild punch from the chilli; average at best and definitely not something I would order again.
Roasted Sea Trout, Summer Vegetables, Lala Clams, Aromatic Broth
The roasted sea trout is a rather interesting species as it looks very similar to salmon and the key difference is in the taste of the flesh, which is supposedly finer and more delicate. BSK's roasted sea trout dish didn't quite expound on the subtle flavours of the trout, choosing to roast the not very fresh piece of trout (mildly crisp skin) and pairing it in a salty, oriental style broth which masked the delicate flavours in my humble opinion. Palatable but hardly impressive.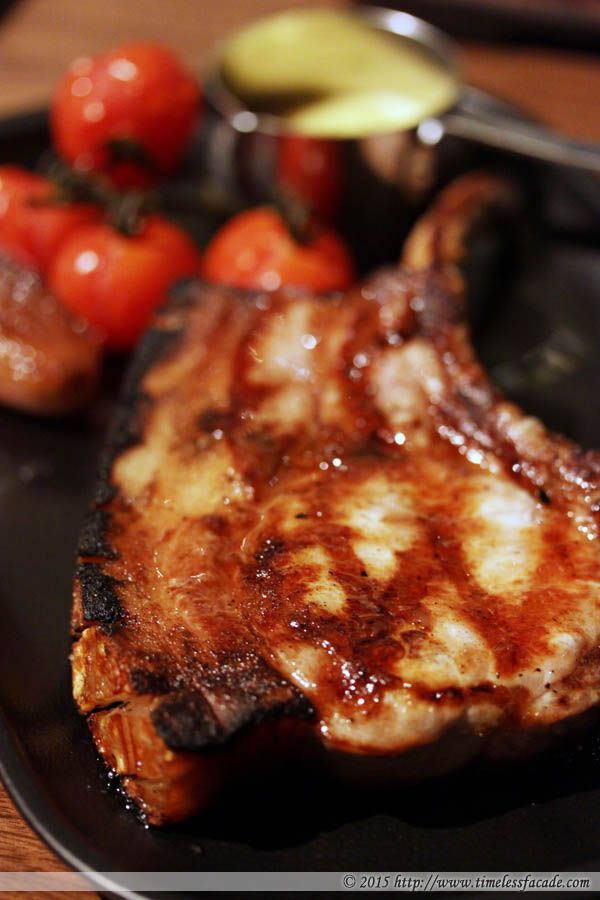 Dingley Dell Pork Chop 10oz
The steak I had during my
previous visit
was pretty good but it had been a substantially "beefy" week for me so I went with the pork chop instead. A tad charred on the surface and along the edges of the fat and seasoned with a dash of salt; flavourful right down to the bone. Only issue I had was that the meat came across as a wee bit too dry and there was a huge chunk of fat in one corner which was pretty nauseating to consume. At $44++ for 10oz, the pork wasn't exactly cheap but thankfully it tasted a few notches above average.
Bill
Our share of the bill came up to almost $132, which was rather expensive for the quality and quantity of food. The service staff tried to be friendly but came across as hurried and insincere in some instances.

At such a price point, I'm writing off BSK for now until things (general food quality and service) improve. Or until Beef Wellington gets introduced into the menu, which is a totally different matter altogether.


Final Verdict:

Ambience: 6.5/10 (nice place but noisy)
Service: 6/10 (dipped in the 2+ months since we last visited)
Food: 6/10 (7/10 for the pork chop)
Value for money: 5.5/10

Overall: 6/10

Address: Bay Level, L1-81, The Shoppes at Marina Bay Sands

Contact: 6688 5665

Opening Hours:

Lunch
Daily 11:30am - 5:30pm

Dinner
Sunday - Wednesday 5:30pm - 10pm
Thursday - Saturday 5:30pm - 12am

Website: http://www.marinabaysands.com/restaurants/celebrity-chefs/bread-street-kitchen.html