I was craving a good burger and the wife happened to be on leave so we headed down to Suprette for lunch one weekday afternoon. Our
last visit
there was absolutely delicious so it was the natural choice for a burger fix.
Chunky Chicken Chowder
This was part of the set lunch that the wife had and it came across as creamy but a wee bit too salty. However the chicken chunks were plentiful which was rather unexpected.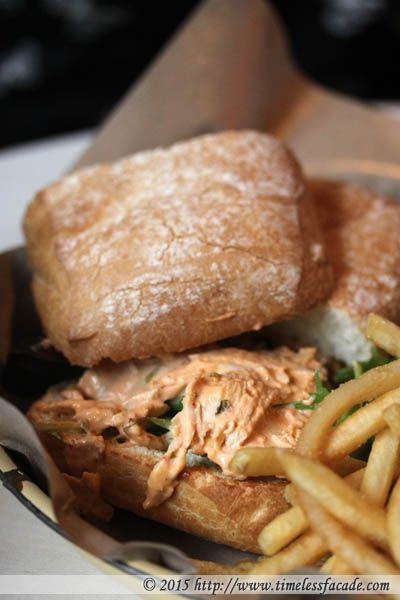 Chipotle Chicken Sandwich
I had a bite of the chipotle chicken sandwich and it proved to be very decent; a tad creamy with a tinge of spiciness and sandwiched between two crisp bread halves. Served with shoe string fries and salad - all for $15 nett inclusive of a soup and a drink. A pretty decent deal if you ask me.
Suprette Burger
And my sole reason for coming to Suprette, the namesake Suprette Burger ($20 for lunch, $25 for dinner), topped with bacon (+$3) and mushrooms (+$3). The hand chopped patty was done to medium well even though I had requested for medium rare but still came across as flavourful and juicy with bits of fat for texture. Add plentiful mushrooms, crisp bacon strips, a layer of gruyere cheese and two wonderfully buttery and crisp buns for the ultimate enjoyment. Oh and let's not forget the mountain of crisp shoestring fries (free flow if you visit during dinner but a single serving is more than enough for me).


Bill
Lunch cost the both of us to the tune of $42.54, which was well worth the money in my humble opinion. A pity there is no option to have the burger as part of the set lunch (even with a top up) but in itself, the set lunch does represent decent value for money. But the draw (to me at least) is still undeniably the burger.


Final Verdict:

Ambience: 7/10
Service: 7/10
Food: 7/10 (8.5/10 for the burger)
Value for money: 7/10

Overall: 7/10

Address: 383 Jalan Besar

Contact: 6298 8962

Opening Hours:

Breakfast and Lunch
Mon - Fri 7:30am - 3:00pm
Sat - Sun 7:30am - 4:00pm

Dinner and Drinks
Sun - Thu 6:00pm - 10:30pm (Closed on Tuesday Evening)
Fri - Sat 6:00pm till Midnight

Website: http://www.suprette.com/