The Singapore outpost of the famed New York bakery, Clinton Street Baking Co, opened without much fanfare a couple of weeks ago
in the heart of town. Having
tried the original outlet in New York about a year ago
, the wife and I were eager to give the outlet in Singapore a shot.
Interior
Occupying a small shophouse unit along Purvis Street and playing neighbours to a boutique hotel and a coffeeshop, Clinton Street Baking Co Singapore can seat ~ 60 people, albeit in a rather cramp seating arrangement (the NY outlet can only take 32 pax). The interior isn't much to shout about honestly, coming across as modern at best. No reservations are accepted but when we got there at about 10am on a Saturday morning, the wait was a very manageable 15 minutes.
Crispy Potato Pancakes
We opted for the house smoked salmon option, which came with caviar and lightly tart and refreshing lemon crème fraîche on the side. Taste wise, the potato pancakes had been on the grill for way too long; charred to a slightly uncomfortable degree of bitterness but otherwise bland. The thin slices of salmon were pretty good though; lightly smokey without coming across as too fishy. We gave up on the potato pancakes halfway through.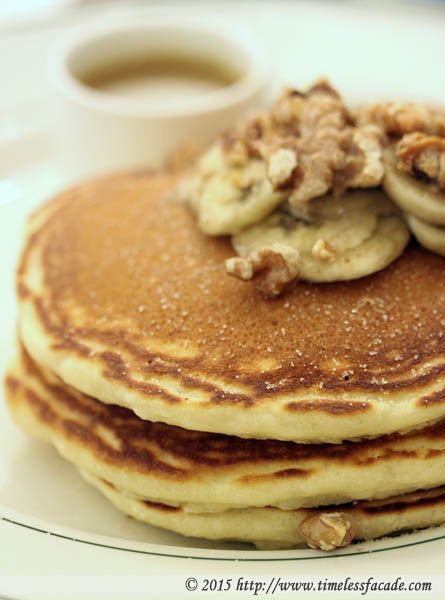 Pancakes with Warm Maple Butter
There is a choice of wild blueberries, banana walnut or chocolate chunk for your pancakes and we went with the banana walnut since we tried
the blueberry variant in New York
. Bits of banana and walnut wedged between fluffy pancakes and finished with more walnuts and banana atop. Very good. However, instead of being dusted with icing sugar, granulated sugar was used instead, which gave the whole dish a rather unpolished feel in my humble opinion. The coarseness of the sugar really didn't help with the texture either. But......... the pièce de résistance was definitely the warm maple butter (not so warm actually); smooth with the creamy saltiness of butter and the pleasant sweetness of maple syrup.
So how does it compare to the original? In my humble opinion, very close. The pancakes could do with a little more crustiness on the surface. Still #2 on my pancake list after
Pancakes On The Rocks
in Sydney.
Sugar Cured Bacon
I enjoyed this sinful side of sugar cured bacon but it did seem a little drier as compared to the one in NY. Delectable nonetheless; lightly sweet while retaining the mild saltiness of the bacon. I would envision bacon bak kwa to be of a similar taste and texture?
Bill
Prices at the Singapore branch are similar to those in NY (after factoring in forex) and both of us spent close to $52 for brunch, which is still reasonable in my humble opinion. I'll definitely be back for the pancakes and bacon, nothing else! Oh wait, maybe to try out the signature waffle with chicken (only available for lunch) as well.


Final Verdict:

Ambience: 6/10
Service: 6.5/10
Food: 7/10 (8/10 for the bacon and pancakes. 5/10 for the potato pancakes)
Value for money: 7/10

Overall: 6.63/10

Address: 31 Purvis Street

Contact: 6684-4845

Opening Hours: Daily 8am-6pm (last orders at 5pm)

Website: http://clintonstreetbaking.sg/