The wife and I were suitably impressed with the food at Joël Robuchon Restaurant during our
previous visit
~ 2 months back so we made it a point to return, this time with friends.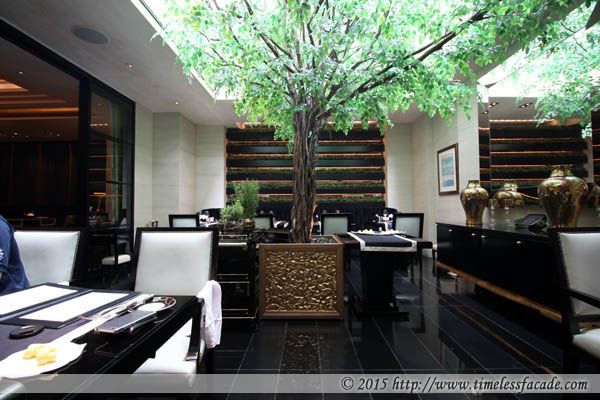 Indoor Winter Garden
I had specifically requested a table in JR's indoor winter garden; an "outdoor" dining area with a glass roof that allows for plenty of natural light without the humidity and heat that comes along with it. Perfect for a place like Singapore if you ask me and definitely suited for that slow, relaxing meal.
Amuse Bouche
No change in the amuse bouche - a calamansi jelly flavoured with vanilla, topped with anisette cream. Still a little too tart for my liking.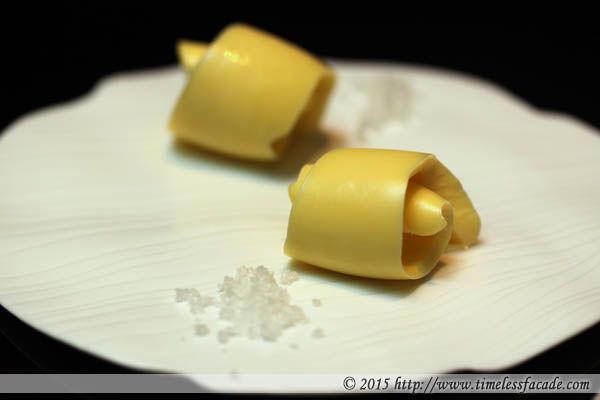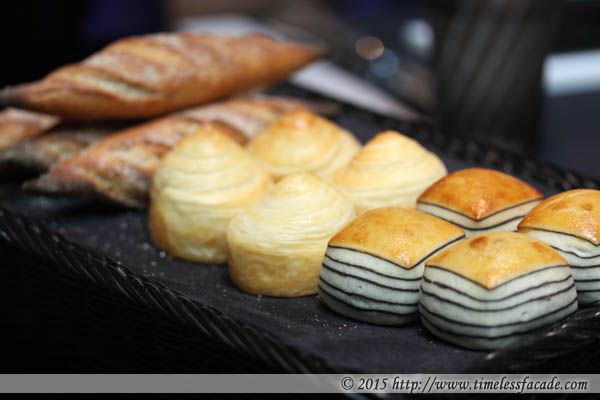 Complimentary Bread & Butter
JR's bread basket was a little different this time round, eschewing the cheese bun in favour of a soft and fluffy, mildly sweet milk bun. The buttery yet light viennoiserie and the crusty yet chewy baguettes were a hit as well, with the latter pairing extremely well with the smooth butter. And of course we had second servings - partly due to the fact that the bread was delicious and partly because we needed to fill ourselves up.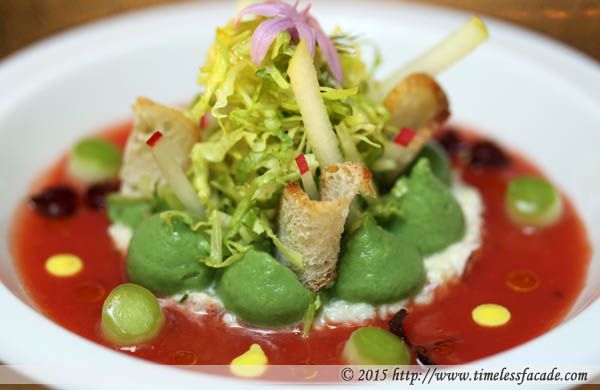 Le King Crabe
I personally liked how the sweetness of the king crab meat balanced out the mild tartness of the tomato coulis and green apple cubes as well as the contrasting textures between the creamy avocado and the crunchy vegetables/crispy toast. Very enjoyable in my humble opinion.
Le Thé de Crevette
Now this came across as rather disappointing. The bouillion (or broth) was very bland (when it previously mildly sweet yet spicy) and tasted like water with a touch of chilli. The only consolation was the delightfully sweet and crunchy botan shrimp chunks.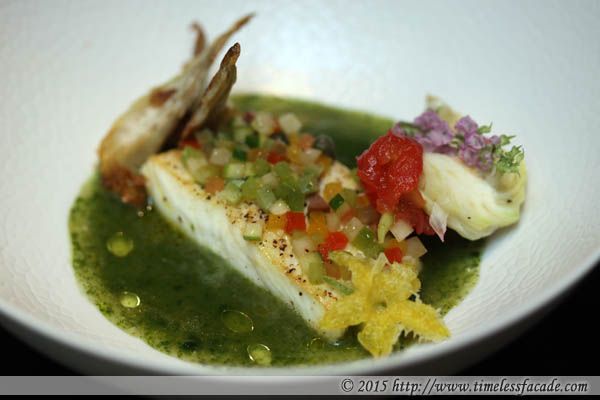 Le Flétan
The halibut was beautifully cooked, soaking in the artichoke
jus
and sporting firm, sweet flesh topped with an assortment of capsicum and cucumber for that added vibrancy, texture and taste. Very good, although I must say that
Fiskekompaniet in Tromsø
still does halibut better (albeit in a different style) in my humble opinion.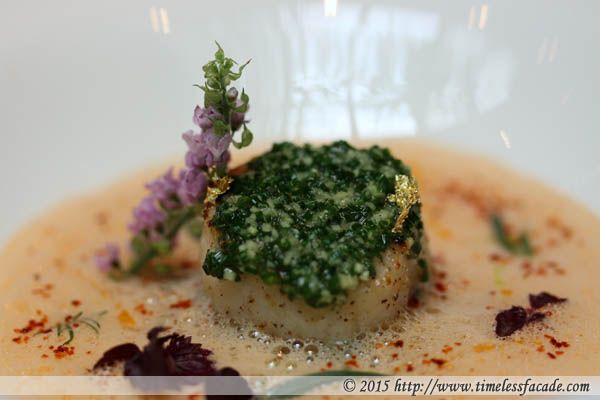 La Noix de Saint-Jacques
I
said this once
and I will say this again. Undoubtedly the pièce de résistance that afternoon, the solitary piece of Hokkaido scallop was fresh, cooked just right and very sweet; served atop a tiny bed of al dente spelt risotto in a creamily delicious sauce with bits of gold foil for that added but totally unnecessary visual opulence.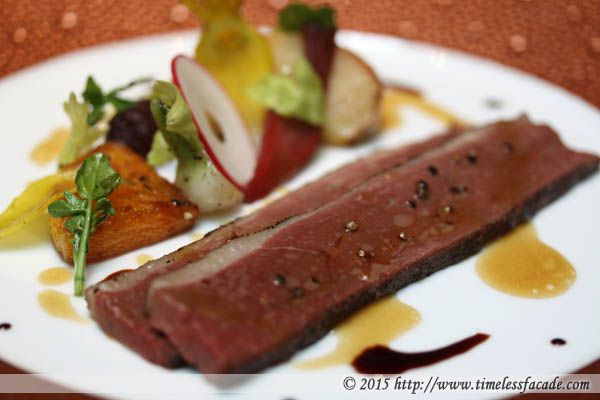 Le Canard de Challans
The Challan duck (French ducks raised for their lean, tender flesh) breast was cooked to a beautiful reddish hue but came across as uniformly non fibrous (a little like eating mildly chewy ham) and rather gamy. Served with and best eaten with the assortment of sweet and sour vegetable fricassee (apple, sweet potato, turnip, beetroot etc). A little like eating foie gras with caramalised fruit sans the quivery texture in my humble opinion. Very palatable but hardly impressive.


Le Minty
My chocolate ring looked like one of the edges had broken off. I'm usually not picky about such details but for such an upclass restaurant like Joël Robuchon, I would have expected some form of quality control. That aside, I loved how the cream swirls camouflaged the base of chilly mint ice cream and oozing chocolate fondant complete with a crustiness along the edges. Only gripe I had was that the fondant seemed to stick to the side of the bowl - not enough butter I presume?


Mignardises
Ending off with lime meringue (sweet and sticky and not my cup of tea), pistachio madeleine (lacked butteriness) and a layered chocolate mousse on a salted, crumbly base which was quite a pleasure to consume (mildly sweet with a hint of saltiness at one go).


Bill
Lunch for 4 came up to ~ $555, which isn't cheap, especially since standards seem to have slipped a little since my
last visit
. Service remained prompt but still came across as rather stiff. Will I be back? Probably, just not in the very near future.
Final Verdict:
Ambience: 8.5/10
Service: 7/10
Food: 7.5/10
Value for money: 7/10
Overall: 7.5/10
Address: Hotel Michael, Level 1, Resorts World Sentosa
Contact: 6577 6688 or 6577 7888
Opening Hours:
Lunch:
12pm - 2.30pm (Every Sat)
Dinner:
6pm – 11pm (Tue – Sat)
Closed on every Sun and Mon
Website: http://www.joel-robuchon.com/en/restaurants-singapour-joelrobuchon.php