We were finally in Esperance, after covering just over 1,000km down south along the scenic route from Perth. And Loose Goose came highly recommended in various eating guides (ie. Zomato) and even from the owner of our apartment. So Loose Goose for dinner it was.
ps: As the place was rather dark and it was quite inappropriate for me to use any flash, my pictures turned out pretty bad. I do apologize for that.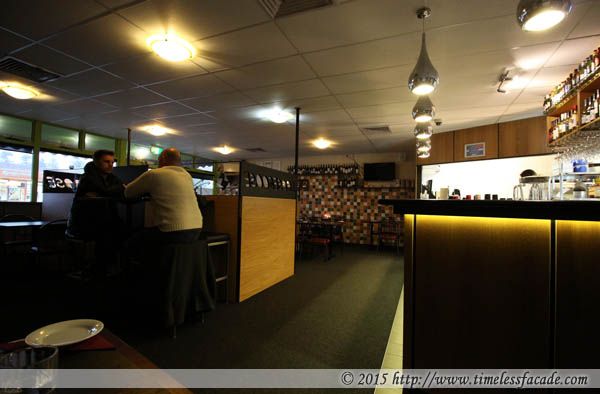 Interior
The place is actually more pub like than restaurant, with dim lights, relatively loud (but easy listening) music and a mixture of dining tables and bar seats. Although the place is seemingly one of the more upmarket eateries in Esperance, there is no real dress code (except for restrictions on biker group motifs) and I was warmly welcomed in shorts and slippers. The food menu works on a prix fixe basis where you pay a fixed price for a number of dishes of your choosing from the menu ($57.50 for 2 courses and $67.50 for 3 courses).
Complimentary Bread
You get a choice of herb or garlic bread. We had one of each and preferred the latter; soft with a lightly buttery herb finish. Decent enough to stave off any hunger pangs.
Fresh Local Scallops Grilled On The Half Shell
The lightly grilled, fresh Esperance scallops didn't come across as overcooked and oozed natural sweetness. Simple yet tasty. Doused in a little too much olive oil for my liking though.
Australian King Prawns
Wrapped around with bacon and served on skewers satay style, the prawns came across as fresh and crunchy but alas, the saltiness of the bacon overwhelmed the crustacean sweetness of the prawns. A tip would be to eat them separately.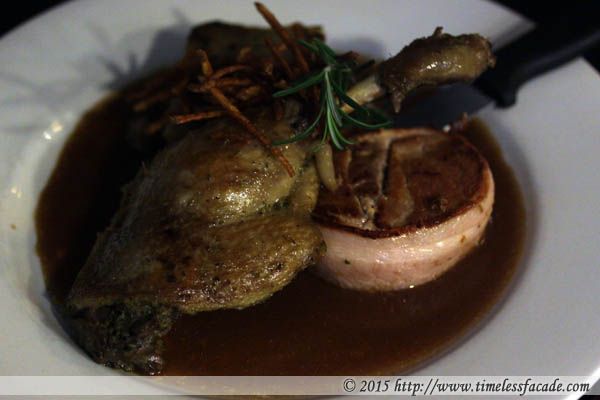 Duck N Pig
Duck confit coupled with a mini pork mignon wrapped with bacon - a winning combination, in theory at least. In reality, the duck confit tasted more like braised duck with its fatty skin and tender meat soaked in a red wine sauce. The pork mignon on the other hand, came across as a tad dry whilst the saltiness of the bacon didn't quite gel with the red wine sauce. Edible but average at best.
Esperance Best End Sirloin
Done as per my request of medium, the sirloin boasted juicy and tender meat but unfortunately, had it's taste overwhelmed by the rather sweet onion marmalade. And the sweetness made it rather nauseating to consume after a while. A waste if you ask me.
Death By Chocolate
And on to desserts.The Death By Chocolate was essentially just chocolate cake and ice cream. The cake came across as a little spongy (like huat kueh or 发糕) and moist, covered in a rich, not too sweet ganache. Served with a scoop of rather flat vanilla ice cream. Palatable ending to the meal.


Bill
Dinner came up to AUD 125 (~ $125 at time of conversion), which was rather expensive given the average quality of food. Service was excellent but hardly enough to make up for the food. Also, the ventilation in the restaurant isn't great. If you sit near the kitchen, be prepared to reek of oil afterwards.


Final Verdict:

Ambience: 6/10 (more a place for drinking than a meal)
Service: 7.5/10
Food: 6/10
Value for money: 5.5/10
Overall: 6.25/10

Address: 9A Andrew Street, Esperance, Australia 6450

Contact: (08) 9071 2320

Opening Hours:

4pm - Midnight (Mon - Sat)

4pm - 10pm (Sun)

Website: http://loosegooseesperance.com.au/