It was a drizzling Sunday afternoon and the wife and I were at one of our favourite dining places in Western Australia, The Truffle & Wine Co (renamed from The Wine & Truffle Co), after a 3.5hr drive from Perth.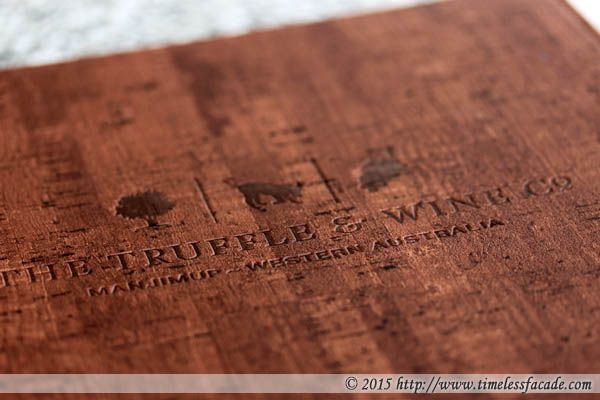 The Menu
Business was brisk and we opted to sit outside in the enclosed tent to enjoy the natural light with a touch of chilly winter air. And we were late. Some of the items on the menu were sold out; items that we were eager to try. ie. the risotto. Imagine the disappointment.
Black Truffle Infused Scrambled Eggs
At least the Chef's special truffle scrambled eggs was available. As appetising as this dish looked, it was unfortunately disappointing. The eggs lacked the smooth creaminess and tasted like someone had been very careless with the salt (thank god for the toast). On the upside, there was a hint of cheesiness and bits of truffle lodged within; topped with 3 fairly respectable shavings of truffle. Definitely had better though.


Confit Duck with Black Truffle Potato Mash Served with Season Vegetables & Truffle Butter
We had a slightly different rendition of the duck confit during our
previous visit
. Although this season's offering sported shredded truffle atop, the skin lacked crispiness. But at least the meat was tender with a touch of salt. The truffle mash was still good though, smooth and fragrant with bits of real truffle in it.
White Chocolate and Black Truffle Cheesecake
This tasted to me like a flourless cheesecake (texture wise at least). A muesli like base topped with a rather stodgy chocolate filling with bits of white chocolate in between, layered over by a thin film of nuts and more white chocolate. The whole thing came across as mildly sweet and savoury with an ever so faint hint of truffle aftertaste. I guess chocolate and truffle don't really make good bedfellows, unlike
ice cream and truffle
?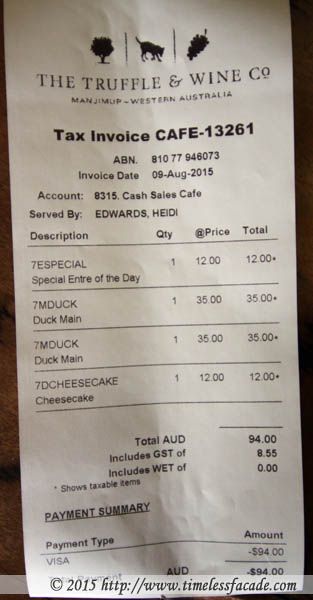 Bill
Lunch was rather disappointing this time round and at AUD 94 (~ SGD 97 at time of conversion), not entirely cheap for the quality of food. Service still came across as friendly but the food did take a while to arrive probably due to the huge turnout for lunch. Hopefully the place improves on the food before our next visit.


Final Verdict:

Ambience: 7/10
Service: 7.5/10
Food: 6/10
Value for money: 6.5/10

Overall: 6.75/10

Address: Lot 490 Seven Day Road, Manjimup

Contact: (08) 9777 2474

Opening Hours

Thursday through Sunday for lunch (~11am to 3pm). Closed Christmas Day, Boxing Day and Good Friday. Open long weekends. Open from noon on Anzac Day.

Website: http://truffleandwine.com.au/truffle-cafe