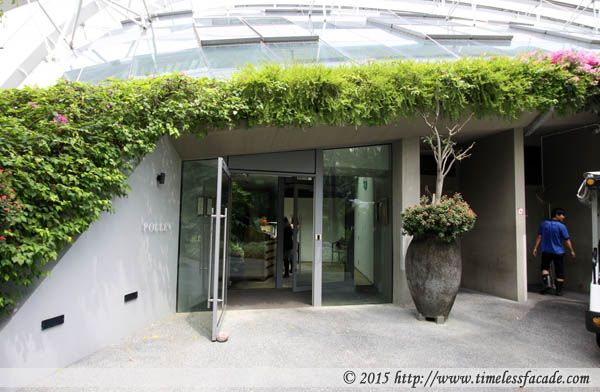 The wife and I were both on leave and were eager to try out Jason Atherton's (former protege of Gordon Ramsay) Pollen @ Gardens By The Bay, which is similarly named after his Michelin starred restaurant in London, Pollen Street Social. Expectations, expectations, expectations.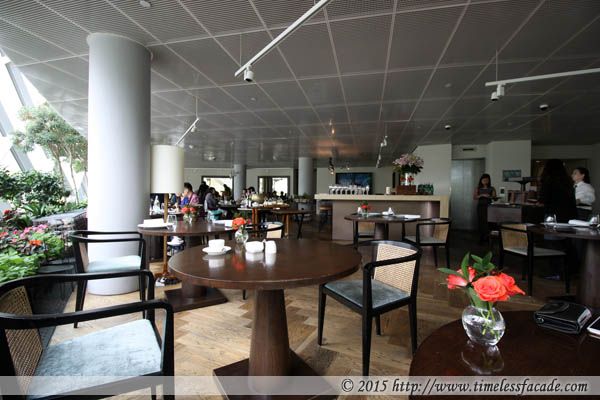 The Place
Situated within the world's largest glass greenhouse, Flower Dome @ Gardens By The Bay (free buggy ride and entrance), Pollen occupies two levels within the dome, with the upper level (terrace) serving up a selection of dishes in a garden like, cafe setting and the lower level boasting a proper restaurant with a dessert counter where you can choose to have your desserts and/or view them being prepared. I appreciate the novelty of dining in a chilled greenhouse surrounded by nature and sunlight but would appreciate more greenery being incorporated into the restaurant. Still cosy nonetheless.


Complimentary Bread
The homemade white sourdough bread sported a crusty surface with a lightly spongy center and came served with hummus and mustard butter; both of which I'm originally not quite a fan of. However the mustard butter surprised me; smooth and creamy with an ever so slight hint of mustard. Pretty decent.
Amuse Bouche
Our amuse bouche for the afternoon. a steamed bun with Gorgonzola and truffle oil - fluffy and chewy with a hint of truffle oil and a mild pungency of the cheese. A rather interesting and decent start to our lunch.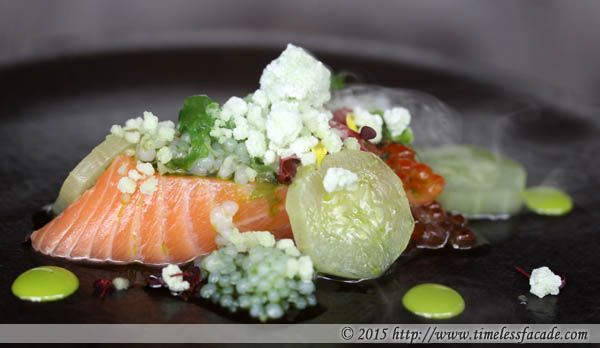 Cured Trout, Dill Sago, Japanese Cucumber, Ikura, Yuzu
Topped with frozen (by liquid nitrogen) cucumber (tasted like sorbet) for that smokey visual effect, the cured trout had a delicate sweetness to it coupled with firm, mildly chewy flesh. The saltiness came courtesy of the ikura (fish roe), balancing out the mild rawness from the cucumbers. Nice.


Seared Foie Gras, Poached Quince, Walnut Cream (+$12)
Though quivery, the foie gras could do with a little more searing on the surface whilst the sweetness of the walnut cream and walnuts helped to cut through the gaminess. The latter also provided a nice crunchy element. What was new to me was the quince, which tasted a little like peach to me, albeit a little tougher. It apparently belongs to the same family as apples and pears and can't be eaten raw. Most interesting.


Roasted Barramundi, Cauliflower, Grapes, Curry Cream
The roasted barramundi was pretty good; crisp skin coupled with firm, flaky flesh and drizzled over with a non spicy curry sauce, all on a bed of deliciously roasted cauliflower. I'm usually not a huge fan of fish but this was interestingly good.


Roasted Butternut Risotto, Honey Croutons
Although I liked the butternut risotto for its creamy al dente-ness, chewy honey croutons and crunchy pistachios, I couldn't quite get over the fact that there was no protein in it; a vegetarian option. Portions were quite substantial and too much proved a tad nauseating, to me at least.


Salted JAAL Chocolate
The JAAL in this dish presumably stands for Jason Atherton Andres Lara, the name of the owner and the pastry chef. Not that it had any bearing on this dessert, which featured an overly salty salted caramel fudge mixed in with chewy rice krispies, peanut powder, cocoa soil and topped with a scoop of unsweetened cocoa ice cream. The end result? Lots of drinking water required.


Bill
At ~ $143 for 2 pax, lunch was a pricier than your average set lunch affair but I guess the complimentary entry into the Flower Dome ($12 for residents) and buggy ride does make up for it. Food overall leans towards fusion and comes across as competent but not wow. I was honestly expecting a little more in terms of flavours. Service was good though and I personally like the relaxing feel of the restaurant. Will I be back? Maybe, but probably not in the near future.


Final Verdict:

Ambience: 7/10
Service: 7.5/10
Food: 7/10
Value for money: 7/10

Overall: 7.125/10

Address: Flower Dome, Gardens by the Bay

Contact: 6604 9988

Opening Hours:

Main Dining Room – Level 1
Lunch 12pm to 3pm (last order 2.30pm)
Dinner 6pm to 10pm (last order 9.30pm)
Closed on Tuesdays

Pollen Terrace - Level 2
Mon - Thu 11am to 9pm
Fri - Sun & PH 9.30am to 9pm
Afternoon Tea 3pm to 5pm

Website: http://www.pollen.com.sg/