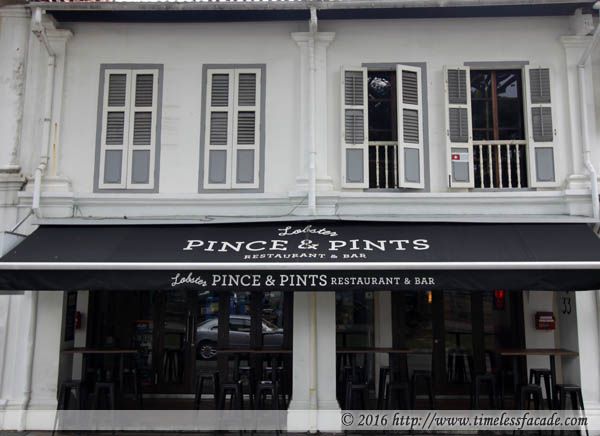 Pince and Pints opened with much fanfare and rave reviews some one and a half years back and has apparently been very popular ever since - so much so that they have expanded upwards to the second floor and overseas to KL. We were intrigued by the limited offering of Truffle Lobster Roll so dropped by one Saturday afternoon for lunch.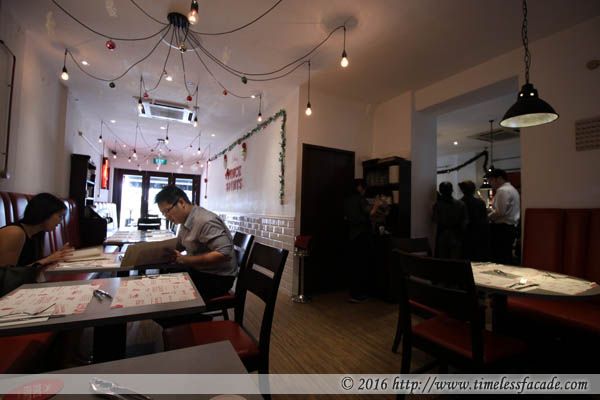 Interior
The place isn't big (first floor seats 46 while the upper level seats another 30) and is a hotbed for noise due to the rather crampish and enclosed interior. But by virtue of a reservation, we managed to snag a rather nice corner seat with a fish tank (complete with a singular lobster) as a backdrop.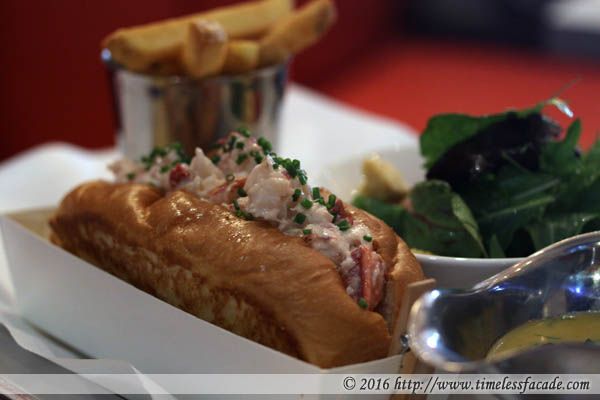 Lobster Roll
To do a comparison, we started off with a regular lobster roll. Served with a rich but not too heavy garlic aioli sauce, the lightly chilled lobster meat came across as crunchy and sweet, on a mildly crisp and sweet bun that could do with more time on the grill and definitely alot more butter. The accompanying regular cut fries were decent.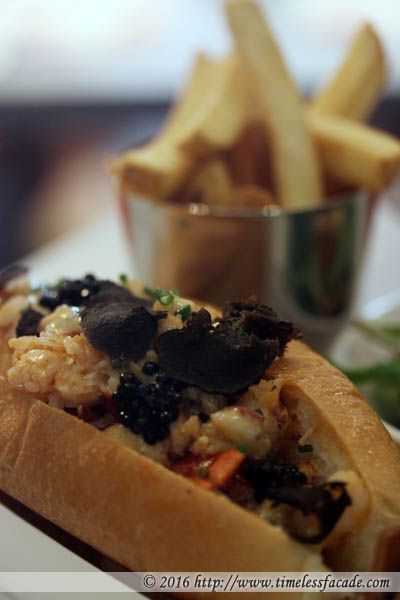 Truffle Lobster Roll
For $10++ more, the truffle lobster roll was only available for a limited period of time (till end January). And in contrast to the regular lobster roll, the crunchy and sweetly succulent lobster meat was served warm instead of chilled, with truffle shavings, a small dollop of caviar and a truffle sauce that boasted a fair amount of truffle oil and bits of the real stuff. I personally couldn't get enough of the rich truffle sauce that went extremely well with the fries. However, as with the regular roll, the bread wasn't crispy or buttery enough for my liking.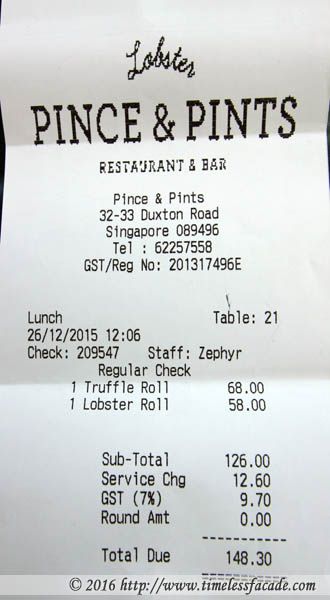 Bill
Two lobster rolls cost us ~ $148, which is relatively expensive given that
The Naked Finn
serves a slightly more delicious rendition of the regular lobster roll at ~ 40% cheaper. A pity the rolls are only available during lunch. Maybe
The Naked Finn
could consider offering it for dinner as well.
Final Verdict:
Ambience: 6.5/10 (too noisy)
Service: 7/10
Food: 7.5/10 (8/10 for the truffle variant, 7/10 for the regular variant)
Value for money: 6/10
Overall: 6.75/10
Address: 32-33 Duxton Road
Contact: 6225 7558
Opening Hours:
Mon – Fri : 5pm – 11pm (Dinner Only)
Sat & PH : 12pm – 11pm (All Day)
Website: http://pinceandpints.com/