The wife was craving rösti and we ended up at The Rosti Farm (TFR for short), an eatery apparently specialising in the Swiss potato dish. The funny thing is that the place also houses other brands under the same roof/management (Teuscher Chocolates and Once Upon A Milkshake) - so you can have chocolates and milkshakes together with your rösti.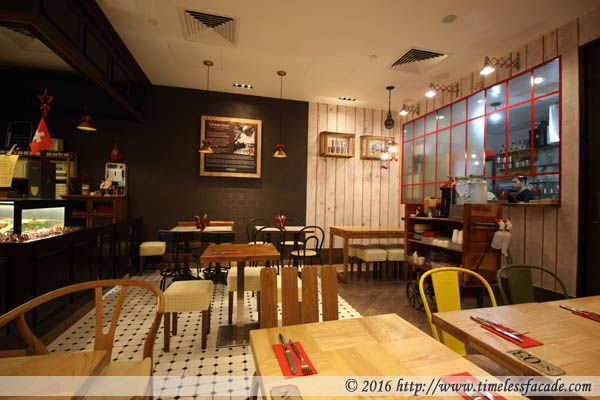 The Place
Occupying a rather small unit on the second floor of the relatively upclass Capitol Piazza mall, TFR seats approximately 20+ pax in its rather homely premise, complete with wood panel wallpaper and wooden furniture.
Milkshake
The milkshakes in general were pretty thick and rich without coming across as too sweet. Pretty good.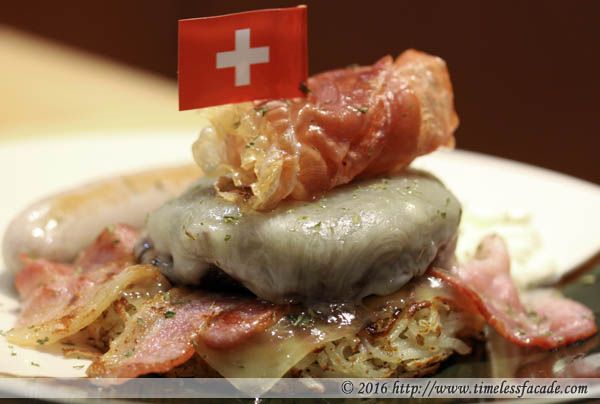 Three Little Pigs & A Big Bad Wolf
A single rosti (you can opt for a double at an additional cost) topped with Swiss cheese, a black angus beef patty enveloped in provolone cheese, bacon and prosciutto. The rosti had a lightly burnt taste to it but came across as rather oily. Ditto the accompanying pork bratwurst, which was flavourful but oily as well. The melted provolone provided a subtle flavour and gooey texture to the beef patty, which unfortunately was overcooked but thankfully, not too dry. While I appreciated the crispiness and saltiness of the bacon, the prosciutto didn't quite do it for me - a little too limp and lacking in saltiness.


The Hardworking Farmer
Consisting of ingredients from the farm; snail sausage, mini omelette, sauteed mushrooms, Swiss cheese with a deep fried chicken drumstick atop, all on a single slab of lightly crisp, salty but relatively oily rosti. The drumstick came across as flavourful but added to the overall oiliness of the dish while the snail sausage wasn't anything to shout about. The mushrooms provided an earthiness but the omelette came across as bland. Although each individual ingredient wasn't great, the sum of all parts made for a pretty decent dish.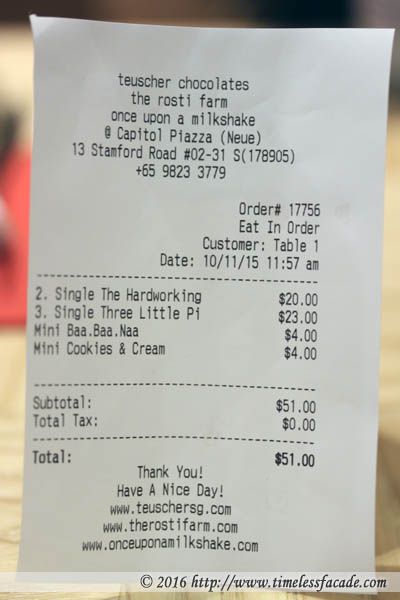 Bill
Our meal cost $51 (no GST and service charge, which is definitely a plus), which isn't too expensive for the decent quality of food (a little less oil would be appreciated though) and drinks. Service was friendly too, which made for a pleasant dining experience.


Final Verdict:

Ambience: 6.5/10
Service: 7/10
Food: 6.5/10
Value for money: 6/10

Overall: 6.5/10

Address: Capitol Piazza (NEUE) - 13 Stamford Road #02-31

Contact: 98233779

Opening Hours:

Sun, Tue, Wed, Thu: 12 - 8pm.

Fri, Sat, Eve of P.H.: 12 - 9pm.

Mon: (Closed)

Website: http://www.therostifarm.com/