We finally made it back to our favourite Imperial Treasure Cantonese @ Crowne Plaza for our CNY eve reunion dinner by virtue of an early reservation (~ 2 months prior and before the CNY menu was made available). And even then, only the second seating was available but thankfully, we managed to snag a private room (watch out for the dripping air-condition vent though!).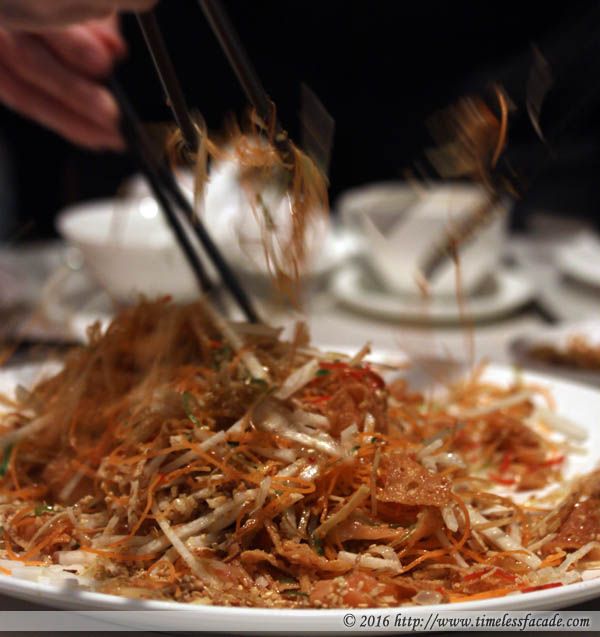 Fatt Choy Salmon Fish Yu Sheng
After "lao-ing" quite a few yu sheng over the years, I've found the offering at Imperial Treasure Cantonese to be one of the best and most consistent; Not overly sweet with a mild crunchiness from the radish strips. The crackers also came across as fresh (no reused oil taste) and crispy, which was definitely a huge plus.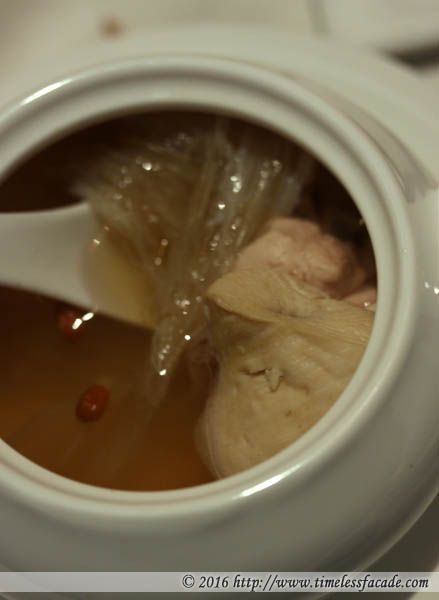 Double Boiled Superior Shark's Fin with Chicken
Slivers of gelatin sharks fin coupled with a huge chunk of chicken meat, all immersed in a flavourful yet light broth that was good to the last drop. The chicken did come across as dry though.


BBQ Combination
Now this wasn't quite as good as what I had about a week back at the very same place. The duck seemed a tad dry while the roasted pork could do with a wee bit more salt. Not too impressed with the rather salty soy chicken as well.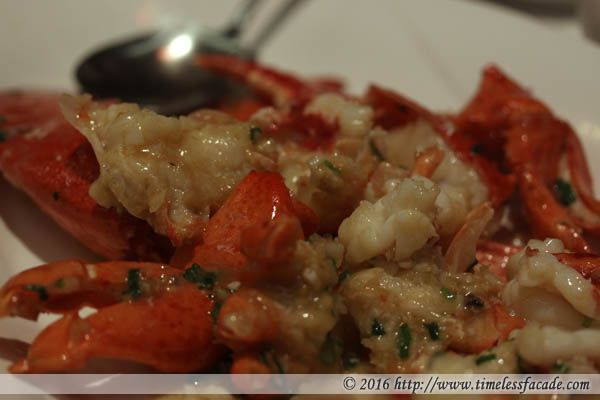 Lobster
We usually have lobster
together with Imperial Treasure's truffle mee pok
but decided to just have it solo this time round (an add on of $168++). Crunchy, sweet crustacean flesh coupled with a mildly savoury garlic sauce. Good but would have been better with the
mee pok
in my humble opinion.
Sauteed Canadian Empress Clam with Vegetable & XO Sauce
The snow peas were excellent; crunchy and sweet with a savoury, spicy kick from the XO sauce. Ditto the clams, which were crunchy and equally tasty.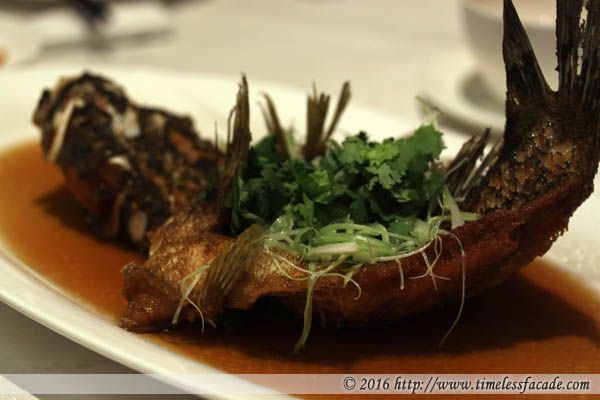 Deep Fried Soon Hock Fish with Soya Sauce
Perfectly crisp on the outside and lying on a bed of soya sauce, the soon hock unfortunately came across as fine but bland. Not something I would have expected from soon hock honestly. Rather disappointing.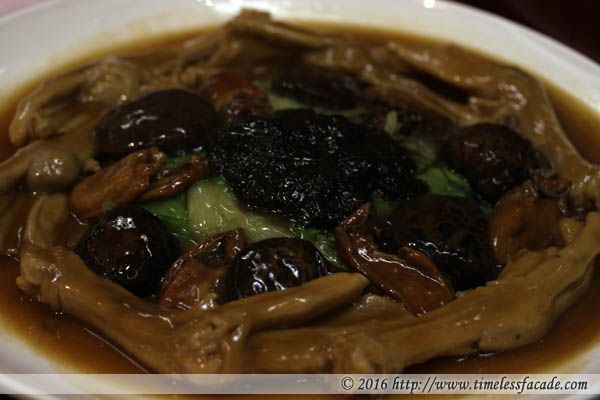 Braised Goose Web, Dried Oyster & Mushroom with Black Moss
We were shocked when this dish arrived. It was ridiculously huge (I don't remember previous years' renditions to be that big!) and filled with dried oysters (not my cup of tea), gigantic goose webs, mushrooms and vegetables. Pretty tasty without coming across as too starchy.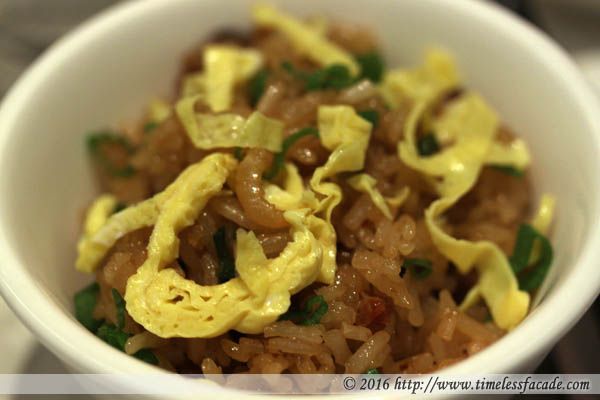 Fried Glutinous Rice with Wax Meat & Sausage
Lacking in fragrance and taste, the fried glutinous rice was rather disappointing. Nothing like the offering from Peony Jade. Too bad PJ only offers it on request (advance order) and for 10 pax only.


Steamed Glutinous Rice Cake
I personally prefer the pan fried version of nian gao (年糕) so this steamed version didn't quite do it for me, especially with the grated coconut.


Red Bean Cream with Lotus Seed
And to end things off, the humble red bean soup. Boasting huge and distinct azuki beans (not boiled to a mash), the soup wasn't cloyingly sweet and coupled with tender lotus seeds, made for a wonderful dessert.


Bill
Dinner for 6 cost about $1155, which is around our norm for reunion dinners. However, quality seems to have dipped a fair bit since our
last CNY eve visit
but I expect things to normalise after the festive period, given that the food we had just a week prior was still of a certain standard. Looking forward to returning, just not for our next CNY eve dinner.
Ambience: 7.5/10 (private room)
Service: 7/10
Food: 6.5/10
Value for money: 6.5/10 (CNY reunion dinner pricing)
Overall: 6.75/10
Address: #01-02 Crowne Plaza Hotel, 75 Airport Boulevard
Contact: 6822 8228
Opening Hours:
Mon–Fri
11.30am–3pm, 6pm–11pm
Sat–Sun & PH
10.30am–3pm, 6pm–11pm
Website: http://www.imperialtreasure.com/