We dropped by Adrift @ Marina Bay Sands one weekday afternoon for a much needed reprieve from our hectic schedules. Overseen by one Michelin star Chef David Myers but run by executive Dong Choi, who had worked with Myers at the now defunct Sona (1 Michelin star in 2007) and Comme Ca.


The Place
Playing neighbour to Rise (MBS's buffet restaurant) at the hotel lobby of tower 2, Adrift comes across as cosy and a little playful (bench made to look like swings) without all the airs of a celebrity restaurant (no loud music playing in the background like
Bread Street Kitchen
as well!). Floor to ceiling windows ensure plenty of light but a pity there is no view, except for a sculpture of sorts.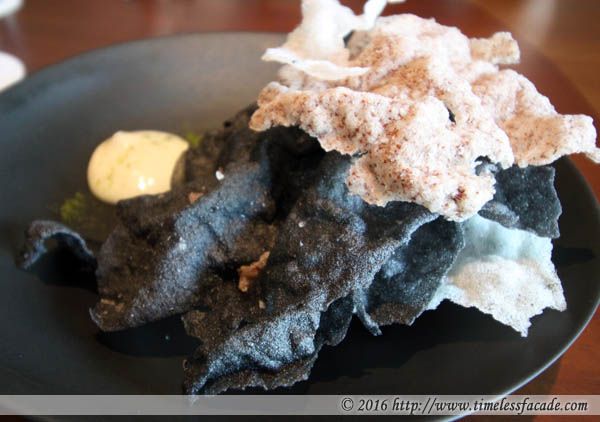 Amuse Bouche
This was 3 varieties of rice crackers served with a dollop of aioli; pretty interesting with slightly varying degrees of crisp and tastes. The purple one for example, tasted similar to keropok but with a tinge of rice wine.
Warm Duck Salad
Very Thai styled salad with sweet mango, generous slices of not too gamy (and delicious!) smoked duck and fresh greens, all drizzled with a sourish, mildly spicy dressing. Appetising and a great way to kick start the meal.
Baby Spinach
Boasting fresh greens, hazelnuts, shimeji mushrooms and truffle pecorino (raw sheep's milk cheese with truffle), what's not to like? Especially with the generous servings.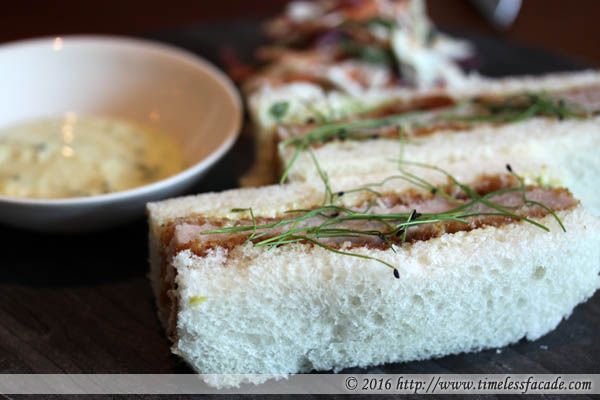 Pork Tonkatsu Sandwich
Apparently one of Adrift's signature dishes, the pork tonkatsu sandwich was, as the name suggested, juicily tender, deep fried (but not greasy) breaded pork sandwiched between two slices of soft, fluffy white bread not dissimilar to the loaves sold in old neighbourhood bakeries. Served with shredded cabbage salad on the side. Pretty good but can't say I was blown away.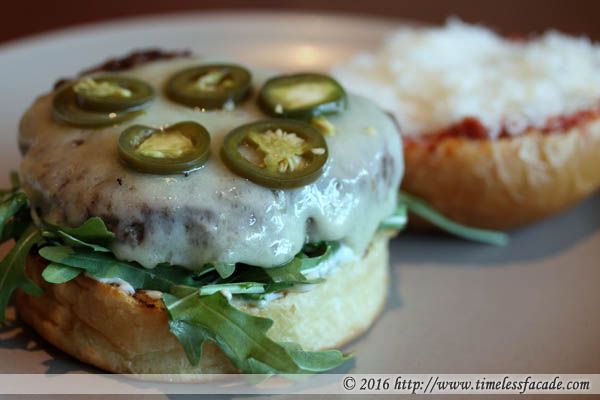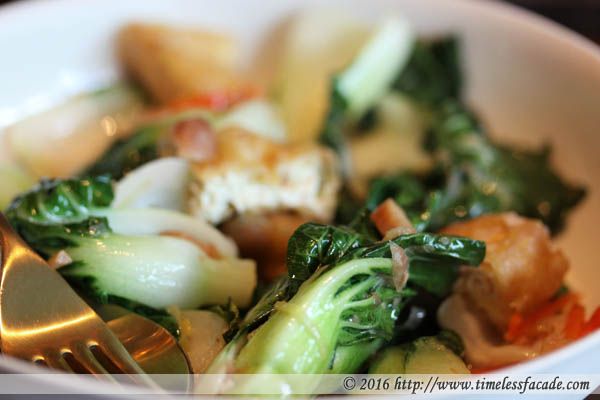 Wagyu Cheeseburger
Adrift's wagyu cheeseburger lived up to it's signature dish billing; a seemingly hand chopped (uneven texuture) and juicy beef patty layered with melted cheese, sitting on a beautifully crisp and buttered bun. The other bun was slathered with tomato jam and buried under a mountain of cheese shavings - personally preferred the butter variant. A worthy rival to
Suprette's
beef burger in my humble opinion.
We opted for a side of
Pak Choy
to go with the burger and it turned out rather average honestly. So much for choosing greens over
more
carbs.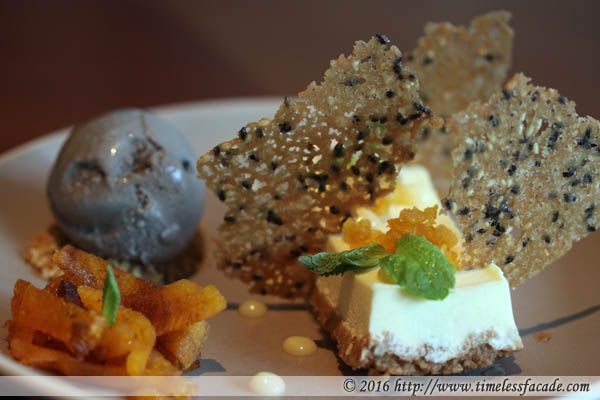 Yuzu Cheesecake
I'm not a huge fan of yuzu but the cheesecake turned out surprisingly good. The yuzu taste was rather dominant but didn't overwhelm the taste of the cheese and paired well with the black sesame ice cream and the wickedly delicious sesame tuile - sweet and crisp with a lingering sesame taste.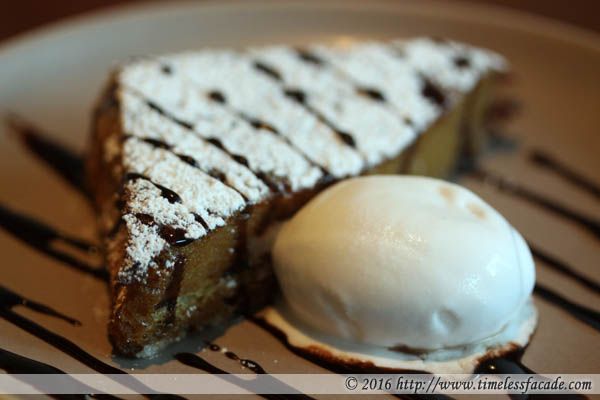 Caramel French Toast
Now this was interesting given that coffee or kopi syrup was used as a drizzle instead of the usual flavours. I'm not too sure it worked in this case as the flavour didn't quite seem a natural fit with the coconut sorbet and the french toast (which tasted similar to bread and butter pudding - a tad crisp on the outside yet soft on the inside). Nonetheless I did enjoy this dessert quite a fair bit.


Bill
Our lunch cost ~ $113 for 2 pax, which was relatively reasonable considering the competent quality of food and the friendly service. I could definitely envision a revisit, with reservations for the corner swing seats of course.



Final Verdict:

Ambience: 7.5/10
Service: 7.5/10
Food: 7/10 (8/10 for the burger)
Value for money: 7/10

Overall: 7.25/10

Address: Marina Bay Sands Hotel Lobby Tower 2

Contact: 6688 5657

Opening Hours:

Breakfast
7am - 10:30am

Brunch
Sat & Sun: 12pm to 3pm

Lunch
Mon-Fri: 12pm to 2:30pm

Dinner
Daily 6pm to 10pm

Bar & Lounge
Daily 12pm to 2am

Website: http://www.marinabaysands.com/restaurants/celebrity-chefs/adrift.html