A colleague had recommended Seletar Hill Restaurant so a couple of us got together for lunch one weekend to give it a shot. This place apparently sells "westernised" Chinese food like General Tso's Chicken as well as Szechuan dishes which the owners picked up whilst cooking in the kitchens of Chinese restaurants in New York. Having lived in the Americas for quite a few years, that little bit of history honestly didn't quite assure me.
The Place
Facing a neighbour park/playground along Jalan Selaseh (along Yio Chu Kang Road and a few lanes down from
Orchid Live Seafood @ Jalan Kelulut
), Seletar Hill Restaurant (or SHR for short) is an unassuming eatery that has a typical, dated interior that is commonplace in many older Chinese restaurants.
Cold Dish
A rather typical old school Chinese restaurant starter; the appetiser platter aka "cold" dish. Consisting of the usual sliced prawns with thousand island sauce, ngoh hiang (五香), jellyfish etc. Everything was palatable but nothing quite memorable honestly.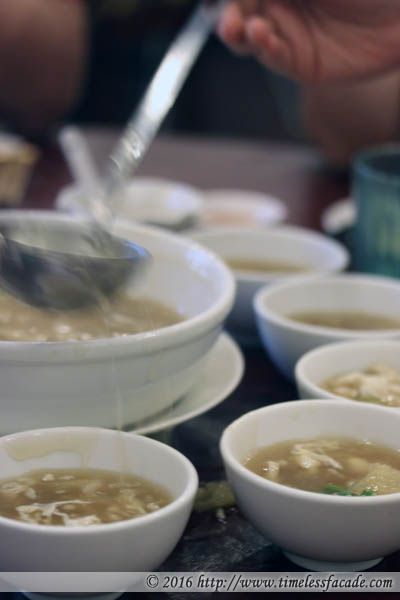 Fish Maw, Fresh Crabmeat, Chicken and Mushroom Potage
Not too starchy with relatively generous shreds of crab meat, chicken and pieces of fish maw. I personally prefer double boiled soups (like the ones from
Lei Garden
) but this was pretty decent.
Camphor Tea Smoked Duck
One of SHR's signature dishes. On my first bite, I could make out the pleasantly faint smokiness that permeated through the entire piece of meat. However the entire duck didn't seem evenly smoked as parts of it seemed a little bland. Also, the meat did come across as a tad dry. Still a very decent eat nonetheless and definitely one of the better ones I've had.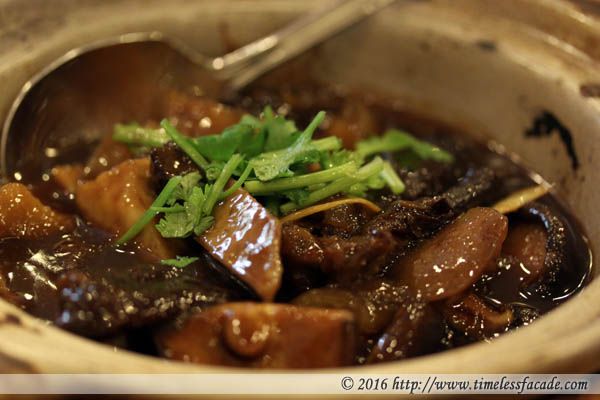 Claypot Duck Wing with Sea Cucumber
I personally wasn't a fan of this dish. Although the duck wing was well braised, the gravy came across as one dimensional. Don't quite fancy sea cucumber as well.
Fried Red Garoupa with Sweet and Sour Sauce
The fish was quite fresh and sported a crisp exterior drizzled with a mildly sweet and appetising sweet and sour sauce. Not too bad honestly.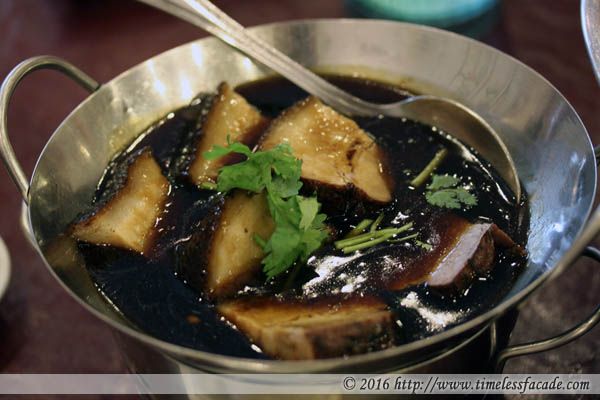 "Tung-po" Pork Belly with Steamed Buns
Another of SHR's signature dishes, the Tung-po pork belly with steamed buns aka
kong ba pau
(扣肉包) was melt in your mouth tender but the gravy did seem a little bland. Nothing quite like the one I usually have from
Beng Hiang
(I have yet to visit them since their move to Jurong so I am unsure if standards have been maintained).
Bill
Our set lunch for 6 pax cost just over $240, which honestly wasn't too expensive given the quantity of food. However food quality isn't much to shout about and I guess SHR is just another ulu Chinese restaurant; worth a try but not worth a revisit in my humble opinion.


Final Verdict:

Ambience: 6/10
Service: 6.5/10
Food: 6/10
Value for money: 6.5/10

Overall: 6.25/10

Address: 16 Jalan Selaseh

Contact: 64830348

Opening Hours: 1130am-230pm, 530pm to 10pm daily