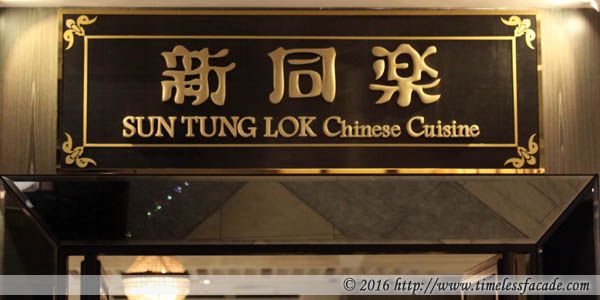 We decided to drop our perennial favourite,
Lung King Heen
, in favour of trying out the other Michelin starred Chinese restaurants in Hong Kong. And Sun Tung Lok (the TST branch) it was, seeing that it had 2 stars (down from 3) and wasn't too far a walk from our hotel.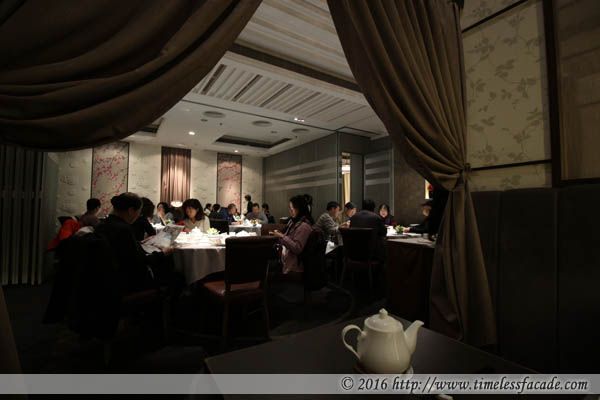 The Place
Housed on the fourth floor of Miramar Shopping Centre, Sun Tung Lok (STL for short) comes across as your typical upscale Chinese restaurant with earthen colour tones, targeted lighting and some measure of noise. We were lucky enough to snag one of only three booths for that marginal bit of privacy.
Shark's Fin Dumpling with Supreme Soup (懷舊魚翅灌湯餃)
One of STL's specials, the shark's fin dumpling was unfortunately average at best. The dumpling skin had dried up in some areas and although the portion of shark's fin atop was relatively generous, it came across as tasteless and unnecessary (画蛇添足). The dumpling itself was filled with a combination of fatty and lean meat and tasted very similar to xiaolongbao (小笼包), albeit much bigger and alot more nauseating.


Roast Suckling Pig Stuffed with Minced Shrimp (百花脆皮乳豬件)
Another of STL's signature dishes and one recommended by the Michelin guide. At first glance, this dish looked dry and unappetising but it was surprisingly good. Crackling crisp skin with a tinge of porkiness and a thin layer of fat underneath; complemented by the juicy prawn paste with a lovely crustecean finish. Very interesting combination and best eaten hot lest it becomes nauseating.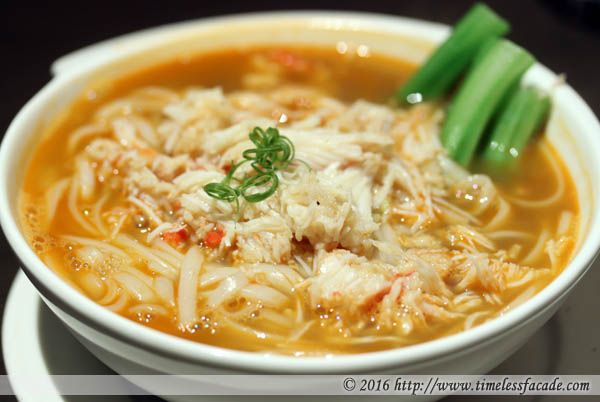 Hokkaido Fresh King Crab Leg with Inaniwa Udon (北海道鮮鱈場蟹腳 伴 稻庭麵)
The pièce de résistance and highlight of our lunch, a simple bowl of udon with crab meat. And boy did it blow our socks away.The Inaniwa udon was reminiscent of kway teow, just slightly thicker and chewier; soaked in a rich crustacean broth filled with generous servings of sweet, shredded crab meat.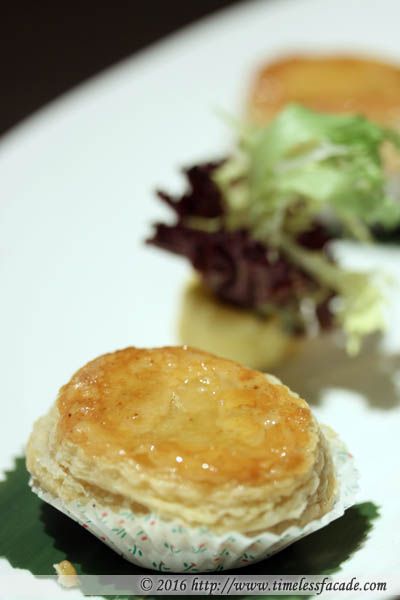 Baked Abalone Puff (特色鮑魚酥)
Comparisons with
Lung King Heen's
delicious rendition of the Baked Abalone Puff is inevitable and sadly, STL's offering doesn't quite pass muster. The puff consisted of lightly sweet pastry encapsulating a small piece of abalone covered in a mildly starchy gravy. Palatable but hardly a contender.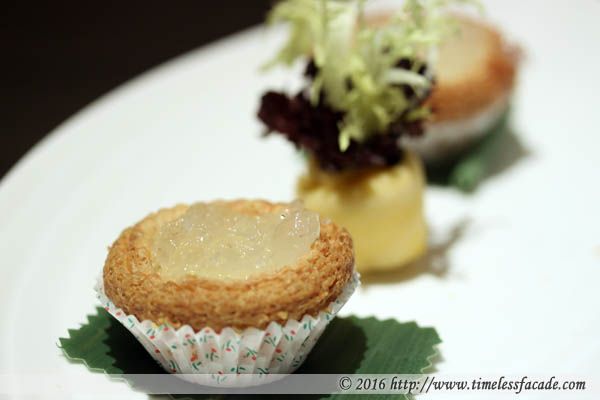 Baked Egg Tartlet Topped with Bird's Nest (燕窩雞蛋撻)
As far as desserts go, this was rather pedestrian. Flaky pastry with a lingering oil taste coupled with faintly sweet custard and bland strands of bird's nest made for an average offering. At HKD 65 a piece, I was seriously expecting something a lot better.


Bill
The both of us chalked up a bill of ~ SGD 150 for lunch and I must say that it was generally quite underwhelming, save for the suckling pig and udon. Service was good but at such a price point, I'm definitely sticking with
Lung King Heen
or even the one Michelin starred
Lei Garden
.
Final Verdict:
Ambience: 7/10
Service: 7.5/10
Food: 6.5/10 (7.5/10 for the suckling pig and 8/10 for the udon)
Value for money: 6/10
Overall: 6.75/10
Address: Shop D, 4/F, Miramar Shopping Centre, 132 Nathan Road, Tsim Sha Tsui
Contact: 2152 1417
Opening Hours:
Lunch Session : 11:30 a.m. - 3:00 p.m.
Dinner Session : 6:00 p.m. - 11:00 p.m.
Website: http://www.suntunglok.com.hk/index.php/en/