Osia was recently awarded 1 Michelin star in the inaugural Michelin Guide Singapore 2016 amidst a rather controversial revelation that the guide itself was sponsored by private companies; one such sponsor being Resorts World Sentosa, which eventually ended up with 4 Michelin starred restaurants.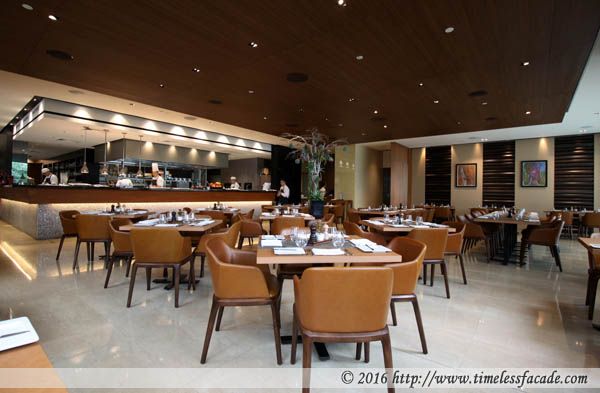 The Place
Located along Festive Walk close to
Tung Lok Heen
and
Joël Robuchon Restaurant
(which incidentally has 3 Michelin stars), Osia sports a modern interior coupled with earthen colours and abundant natural light made for a cozy
dining atmosphere. No strict dress codes either ;) Window seats offer offer a view of Festive Walk but can get a little warm due to the sunlight.
Stone Hearth Flat Bread
There is no complimentary bread served so if you need that extra filler or carbohydrate, your only choice is the $11++ a pop selection of bread. There are a couple of flavours to choose from and you can select up to 2 different flavours for your flat bread. I would highly recommend you order the bread as it was consistently good (based on our few visits thus far); soft and fragrant with an irresistible chewiness. Personal favourite - Garlic Butter and Garlic Butter ;)


Air Dried Coppa Ham
Rather pedestrian in my humble opinion even though the mesclun salad was fresh and the ham injected a strong saltiness.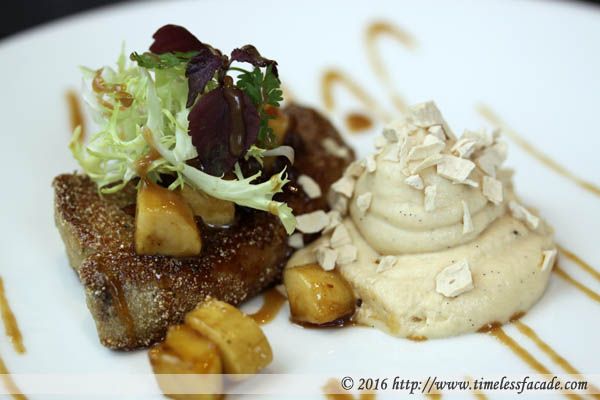 Foie Gras
This required a supplement of $12++ and was worth the top up in my humble opinion. The foie gras wasn't overly gamy, nicely seared with a lightly crisp exterior and topped with caramalised banana cubes to ease through any greasiness. Served with banana espuma laced with vanilla beans. I like bananas so I might just be biased here.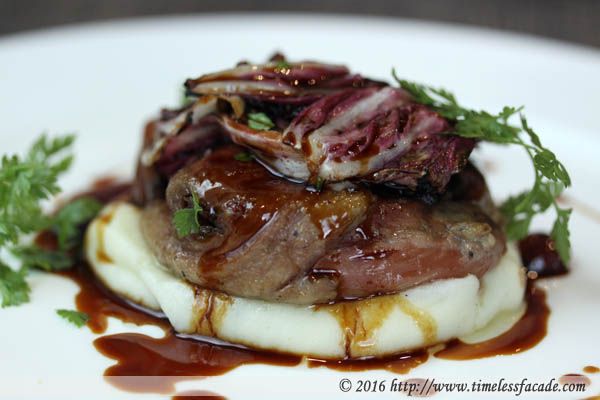 Duck Leg
Osia's Duck Leg is one of the best Duck Confit I've had in quite a while. Cooked to a pinkish hue yet moist, tender and flavourful (not too gamy or salty) - complete with a mildly crisp skin. Served on a bed of smooth potato mousse (not as good as
Joël Robuchon's
though). The wife is a huge fan.
Beef Hanging Tender
Although done to medium, the hanging tender (economical cut) came across as a little too tough and rubbery for my liking. I liked the flavours though; mildly beefy and sweet, topped with earthy and savoury duxelles.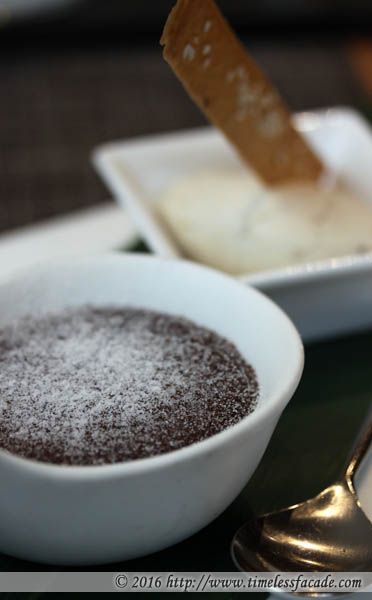 Valrhona Hot Chocolate Soup
The generous semi viscous chocolate lava came across as relatively rich but not cloyingly sweet. Paired with a scoop of rather interesting black pepper ice cream; sweet and cold with a strong peppery kick at the end. Not quite my cup of tea though.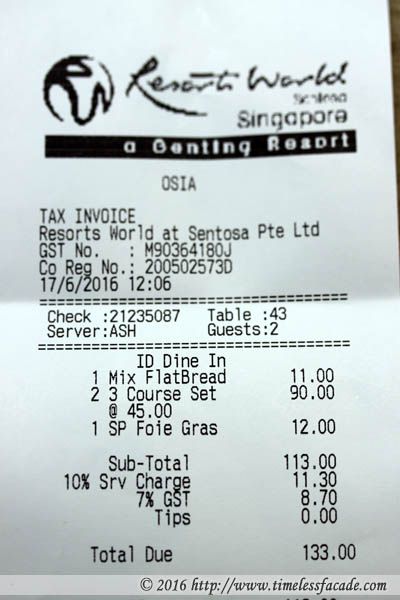 Bill
Lunch for 2 cost $133, which isn't exactly cheap given the portion sizes and varying quality of food. But still, set lunches are a great way of sampling what restaurants have to offer (the other, more limited option is Restaurant Week). Service was good on all the occasions we were there. As to whether Osia deserves that 1 Michelin star, my personal opinion is unfortunately a no.
Final Verdict:
Ambience: 7.5/10
Service: 7.5/10
Food: 7/10 (8/10 for the bread and the duck confit)
Value for money: 6/10
Overall: 7/10
Address: Festive Walk, Resorts World Sentosa
Contact: 6577 6560
Opening Hours:
Thurs - Tue
Lunch:
12pm - 2.30pm(Last order at 2.15pm)
Dinner:
6pm - 10.30pm(Last order at 10pm)
Closed every Wednesday
Website: http://www.osiarestaurant.com/home/osia-singapore OR http://www.rwsentosa.com/Homepage/Restaurants/CelebrityChefs/Osia
ps: On a side note,
Joël Robuchon Restaurant Singapore
doesn't deserve 3 Michelin stars in my humble opinion as well - at most 1.