We were in the vicinity of Tanjong Pagar one weekend and decided to pop by Drury Lane (one of the numerous hipster cafes that have been sprouting up like mushrooms in the past few years). Getting a table took a while and it seemed filled with youngsters in their teens to mid twenties.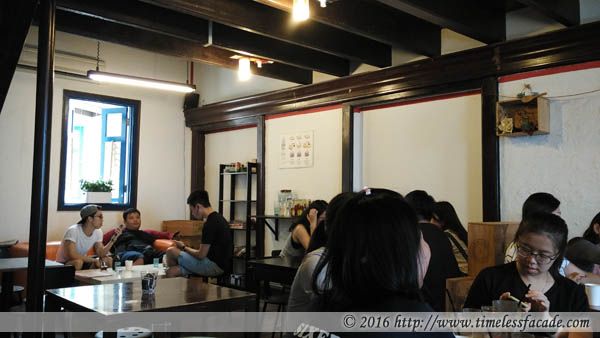 The Place
Seating is rather limited on the ground floor where the ordering counter and kitchen is. The second level offers more seats but comes across as cramp with tables small and packed rather tightly together. One major gripe I have is the lack of air-conditioning. We had a table at one of the corners and believe me, it was warm and a little stuffy. To be fair, fans were placed at certain locations but it only benefited those who were seated directly in front. Water is self service from one of the counters located near the stairwell.
Half Sized Cheese Toasties
To start we had the mozzarella and turkey bacon cheese toasties (half sized). Nicely grilled on the outside but sadly, the gooey cheese and turkey bacon didn't quite feature in the taste department. Nowhere close to
Toastface Grillah's
but decent for the price ($4).
Monterey Chicken with Avocado and Sriracha Butter
The chicken came across as nicely grilled but a touch too salty whilst the whole grain bread was just dry. I liked the gooey cheese but not much of a fan of Sriracha. Average overall.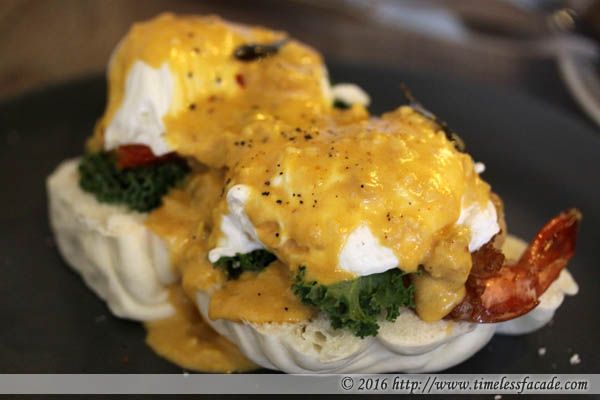 Creamy Salted Egg Yolk Eggs Benedict with Grilled Prawns
This was a rather interesting - Runny egg yolk atop a lightly sweet but mildly dry mantou and drenched with a rather diluted salted egg yolk custard that could use a little more robustness/richness. Packed with three decent sized, crunchy and relatively sweet prawns to justify the comparatively expensive (as opposed to other items on the menu) $17 price tag. Pretty decent dish.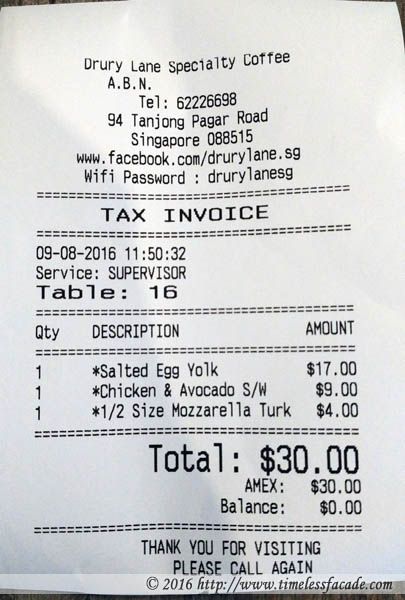 Bill
Drury Lane serves up relatively inexpensive food in general (prices are nett) but quality hovers around the average mark. In short, just another run off the mill (but reasonably priced) cafe. No idea about the coffee though!


Final Verdict:

Ambience: 6/10 (a little cramp and warm)
Service:NA
Food: 6/10
Price: 7/10

Overall: 6.33/10

Address: 94 Tanjong Pagar Rd

Contact: 06222 6698

Opening Hours:

MON - TUES / 8AM - 6PM
WED - FRI / 8AM - 9PM
SAT - SUN / 9AM - 6PM

Website: www.drurylane.sg