We decided to give Imperial Treasure Cantonese @ Crowne Plaza another shot for our reunion dinner even after
a slip in standards
during the same occasion last year (even though subsequent post CNY visits turned out fine).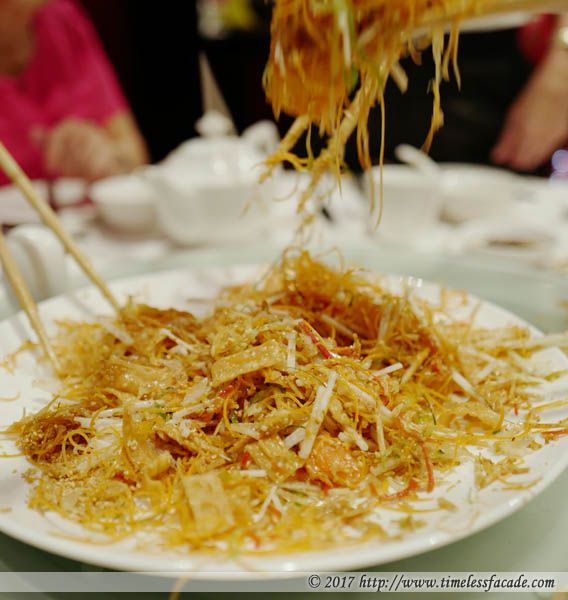 Fatt Choy Salmon Fish Yu Sheng
Amidst the rise of fancifully premium and aesthetically pleasing versions of yusheng, Imperial Treasure still manages to hold its own with a simple yet delicious rendition. Not cloyingly sweet with a dash of Kaffir leaves for a more balanced flavour; finished with crispy, fresh tasting crackers. Still one of the best yusheng I've had in recent years.


Double Boiled Superior Shark's Fin with Chicken
Flavourful without coming across as too rich; filmsy strands of gelatin shark's fin coupled with a chunk of chicken meat for texture. Good to the last drop and a great kick off to our meal.


Sauteed Canadian Empress Clam with Vegetable & XO Sauce
I'm no fan of celery nor Empress clams but this was very palatable, to me at least. Crunchy clam pieces permeated with a savoury, lightly spicy kick.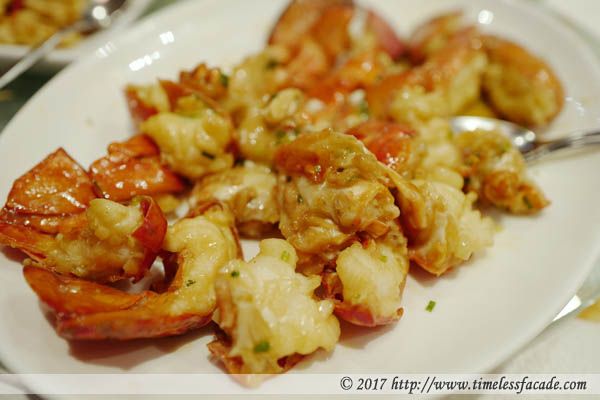 Baked Boston Lobster
An addition ($168++) to our CNY set menu, the lobster (1.2kg) was absolutely delish. Huge crunchy pieces of lobster chock full of crustecean sweetness and savouriness from the garlic sauce. Excellent but I'm not quite sure the price was justified.
Deep Fried Soon Hock Fish with Soya Sauce
Crisp skin belying the fine flesh on the inside; sitting on a bed of soya sauce. Pretty good.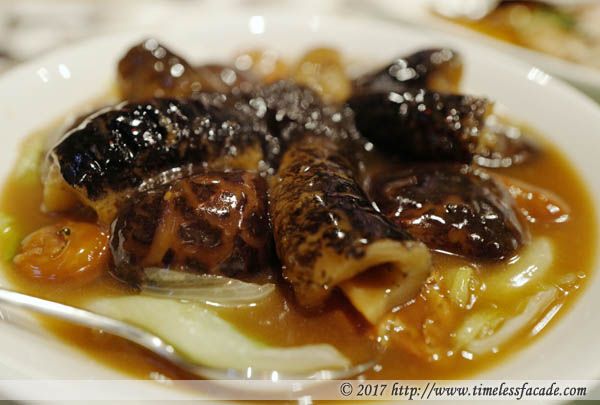 Fatt Choy Mushroom and Sea Cucumber
Again, I'm no fan of sea cucumber and I actually try to avoid it. Perhaps its psychological. At least there was cabbage and mushroom.


Diced Pork With Fried Garlic
Pork cubes that looked like beef cubes. Bite sized pieces with an appropriate amount of fat for that sleek texture. Sprinkled with generous slices of crisp, fried garlic chips. Delicious but the old adage holds true; less is more.


Fried Glutinous Rice with Wax Meat & Sausage
By the time this dish rolled around, we were almost ready to call it quits. But we soldiered on and on hindsight, I'm glad we did. The rice was fragrant, a tad chewy but could do with alot more of my beloved lup cheong.
Steamed Glutinous Rice Cake
I still prefer the pan fried version but this version was strangely reminiscent of Kuih Kosui (卡穗糕).


Red Bean Cream with Lotus Seed and Glutinous Rice Dumpling
Azuki bean coupled with lotus seed and glutinous rice dumpling (汤圆) filled with black sesame; a deliciously sweet ending to our meal!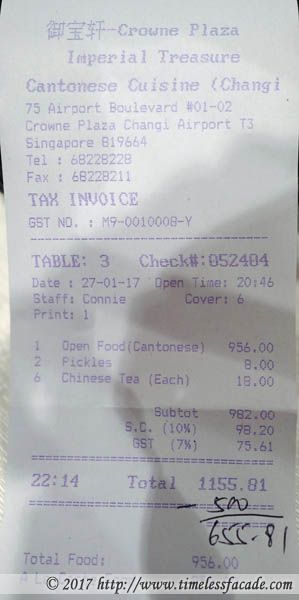 Bill
And the damage? In excess of one grand ($1155) for the 6 of us. It was a great meal and although Imperial Treasure's CNY menu stays pretty much the same year after year, food quality is largely consistent throughout and that's what matters in my humble opinion.


Ambience: 6.5/10 (didn't manage to get a private room this year)
Service: 7/10
Food: 7.5/10
Value for money: 7/10

Overall: 7/10

Address: #01-02 Crowne Plaza Hotel, 75 Airport Boulevard

Contact: 6822 8228

Opening Hours:

Monday to Friday
Lunch: 11.30am to 3.00pm
Dinner: 6.00pm to 10.30pm

Saturday
Lunch: 11.00am to 3.00pm
Dinner: 6.00pm to 10.30pm

Sunday
Lunch: 10.30am to 3.00pm
Dinner: 6.00pm to 10.30pm

Website: http://www.imperialtreasure.com/