The 3 of us were having lunch at Long Chim (which translates to come and taste), a relatively upscale Thai restaurant at Marina Bay Sands owned by renowned Australian Celebrity Chef David Thompson, who is also behind the award winning Thai restaurant, Nahm, in Bangkok.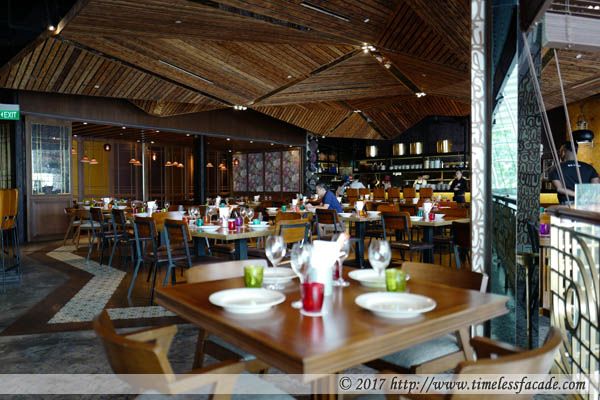 The Place
Located on the 2nd floor of MBS, Long Chim boasts a modern and trendy interior with Asian twists, scenes of Bangkok and a view of Marina Bay from certain tables. But the view is a double edged sword because you get plenty of natural light (great!) and some of the heat as well (not so great).
As this was our first visit, we decided to go with the set lunch.
Cured Pork Fritters
Deep fried breaded cubes filled with sourish cured pork and an uneven distribution of chilli; best eaten with the peanuts to help neutralise the sourness. No great shakes and not my cup of tea.


Miang Prawn
One of my dining companions had the Miang prawn, which was an assortment of ingredients (dried prawns, shallots, peanuts etc) wrapped in a betel leaf. Sweet, spicy and sour all at once - akin to a zesty rojak paste. Can't say this was well received.


Fried Rice with Roast Duck
This was my main course and though this dish came across as lightly salty and savoury, it lacked any discernable wok hei. I couldn't quite make out the taste of the duck slices as well, which was a pity. Overall a rather forgettable dish of fried rice.


Sweet Mango Sticky Rice
One of the quintessential Thai desserts, the humble mango sticky rice. Mildly sweet mango slices atop rather watery rice (too much creamy coconut milk!) and sprinkled with fried mung bean to inject some crunch. Decent dessert but portion sizes are minute; I finished the whole thing in 2 spoonfuls.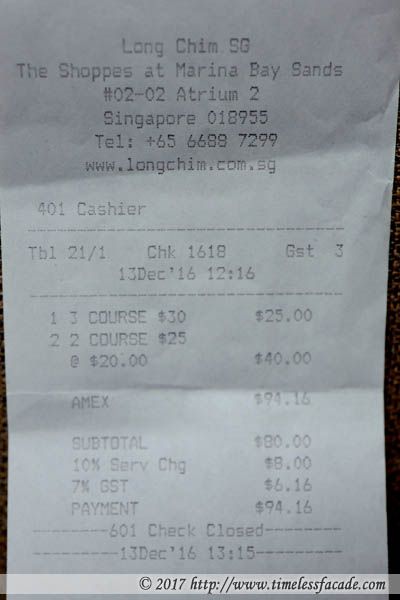 Bill
Lunch for the 3 of us cost ~ $94, which isn't expensive (ala carte and dinner prices are quite a bit higher though) given the prices at Marina Bay Sands in general but quality is average at best. Overhyped and rather underwhelming in my humble opinion. Service is decent though.


Final Verdict:

Ambience: 7/10
Service: 7/10
Food: 5.5/10
Value for money: 5.5/10

Overall: 6.25/10

Address: #02-02, The Shoppes at Marina Bay Sands

Contact: 6688 7299

Opening Hours: 12pm to 11pm daily

Website: https://longchim.com.sg/