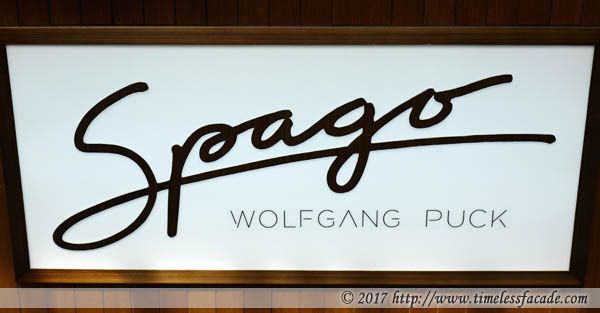 We had been itching to try Spago and the opportunity presented itself one Saturday afternoon when we had to drop by Marina Bay Sands (MBS) to settle some business. Spago is Wolfgang Puck's second restaurant @ MBS, with the first being CUT, an upmarket steakhouse. The Los Angeles flagship outlet of Spago had garnered 2 Michelin stars in 2008 and 2009 (Michelin pulled out of LA after that) so our expectations were reasonably high.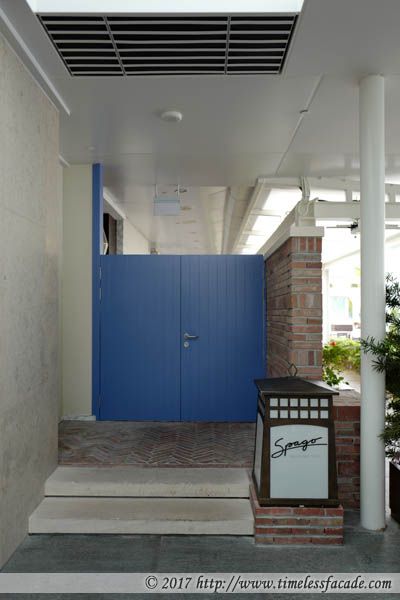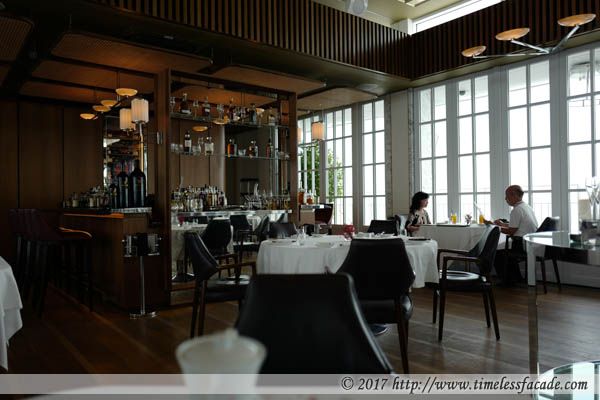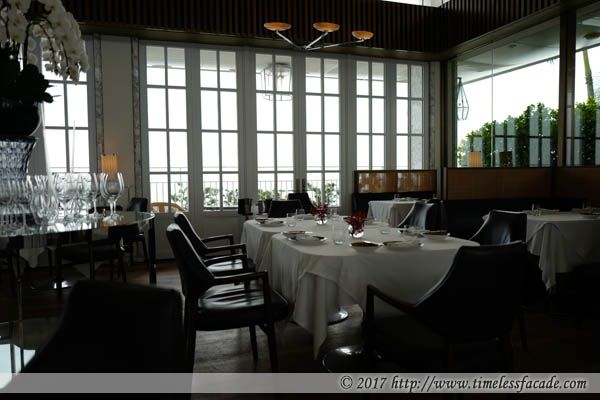 The Place
Taking the lift up to the 57th level brings you to the famed MBS infinity pool, where one of Spago's service staff will walk you to your table within the confines of a beautiful timber decked room with plenty of natural light (that's if you choose not to dine al fresco).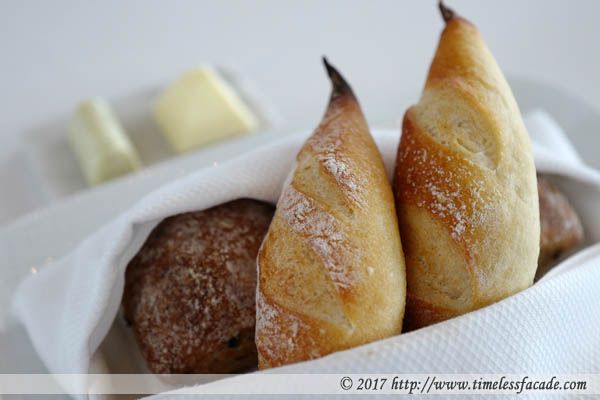 Complimentary Bread
Served with salted nori butter and unsalted buter, the complimentary baguette and black olive focaccia came across as palatable but nothing to shout about. Somehow the European restaurants (ie.
Joel Robuchon
) tend to do better bread in my personal experience.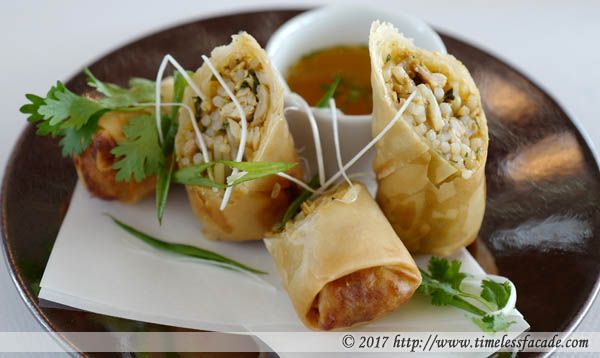 Chicken 'Laksa' Spring Roll
This local inspired appetiser was rather interesting. Spring roll skin deep fried till crackling crisp and filled with thick rice noodles and chicken - reminiscent of laksa especially when eaten with the dipping sauce.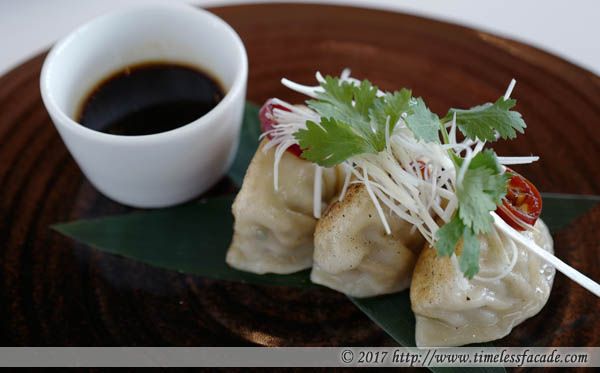 Pan Seared Pork Dumplings
The 锅贴 or Gyoza was decent; not overly oily or porky with the skin retaining a light crisp. Simple yet refined.


Grilled Iberico Pork Secreto
Secreto or the "secret" cut apparently refers to different cuts of the Iberian pig, varying from individual to individual and there exists no common or universal standard to date; a clever marketing ploy to make people pay more. But I digress. The famed acorn fed Iberico pork strips were excellent; tender with a light charring along the exterior. Flavours were wonderful - savoury with a touch of earhiness from the mushrooms and sweetness from the pumpkin and chestnuts. Topped with light and crispy pork skin and deliciously smooth parsnip puree.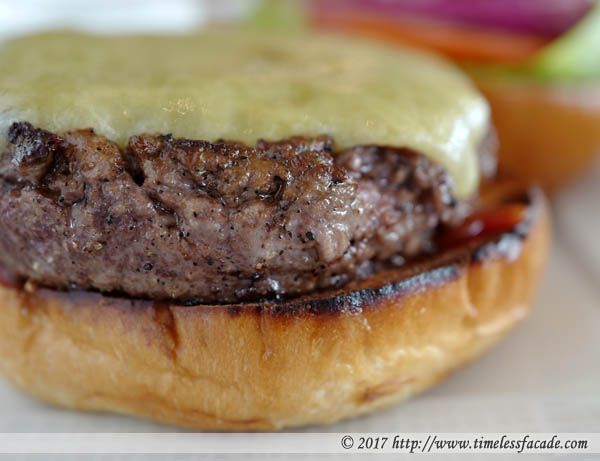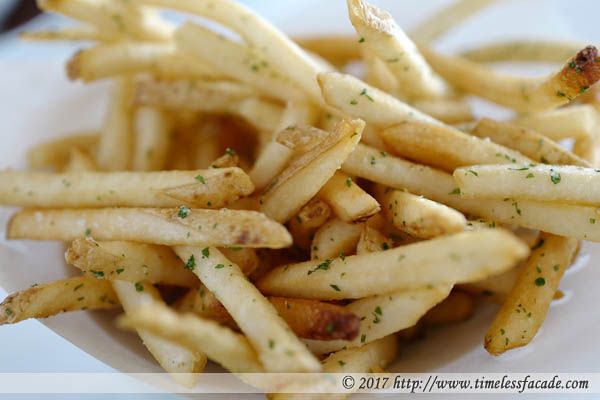 Grilled Angus Beef Burger
Nothing else really caught my attention on the menu so I went with the usually safe burger option. Unfortunately this didn't turn out as well as I would have liked it to. For starters, the patty was a tad too soft for my liking. I appreciate the hand chopped patty with its uneven texture and bits of fat but it had minimal beefiness to it. The buns were crisp along the edges but slathered with ketchup which isn't my default option for buns (butter is!). An average burger overall. Interestingly,
the restaurant 56 floors down
in the same tower serves a much better burger in my humble opinion.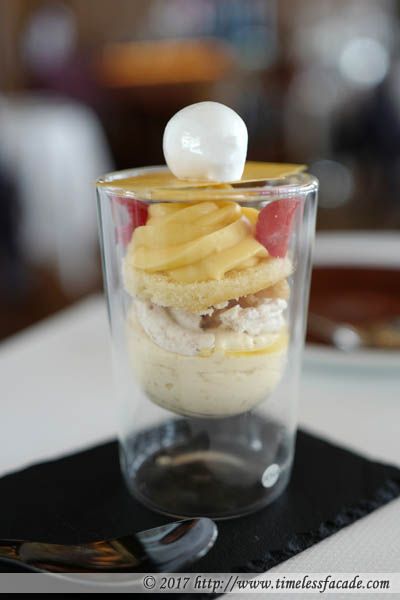 Coconut-Passion Fruit Trifle
There wasn't a choice of dessert with the set lunch so the the Coconut-Passion Fruit Trifle it was. Tangy, sweet, smooth and crunchy (due to the rice krispies) all at once. Flavours were light and clean - pretty good. Only small gripe I had was the passionfruit seeds; I know they can be eaten but I'm personally not a fan.


Chocolate – Coffee Semifreddo
We got greedy and decided to share an additional dessert. Served with caramalised banana balls and banana cake cubes, the asthetically pleasing Chocolate Coffee Semifreddo came across as rather strong on the flavours (a juxtaposition to the previous Coconut Passion Fruit Trifle dessert) with a dominant coffee presence. Decent.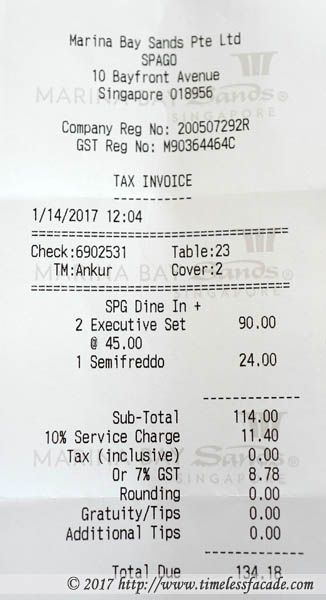 Bill
Lunch was a pleasant and leisurely affair. Food was decent overall (though not quite up to expectations) and didn't cost us an arm or a leg @ ~$134. Service was very good and so was the ambience. Personally would prefer to dine @
Sky 57
over Spago.
Final Verdict:
Ambience: 8/10
Service: 7.5/10
Food: 7/10
Value for money: 6.5/10
Overall: 7.25/10
Address: Sands SkyPark, Tower 2 Level 57
Contact: 6688 9955
Opening Hours:
Breakfast
DAILY:7:00am - 10:30am
Lunch
DAILY: 12:00pm - 2:30pm
Dinner
SUN, MON, TUE, WED, THU: 6:00pm - 10:00pm
FRI, SAT: 6:00pm - 11:00pm
Website: https://wolfgangpuck.com/dining/spago-singapore/