It was a revisit almost a year in the making. We were fairly impressed with the quality of food at Adrift during our
last visit
and it took months of procrastination before finally deciding to drop by for lunch again.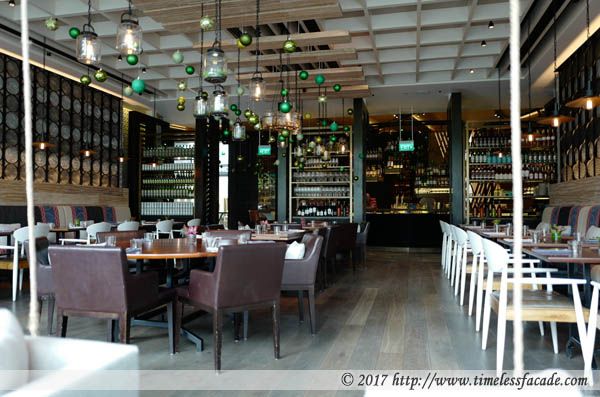 The Place
To satisfy the inner child in us, we made a note to request for the corner swing-like seats this time round; soaking in the abundance of natural light through huge floor to ceiling windows.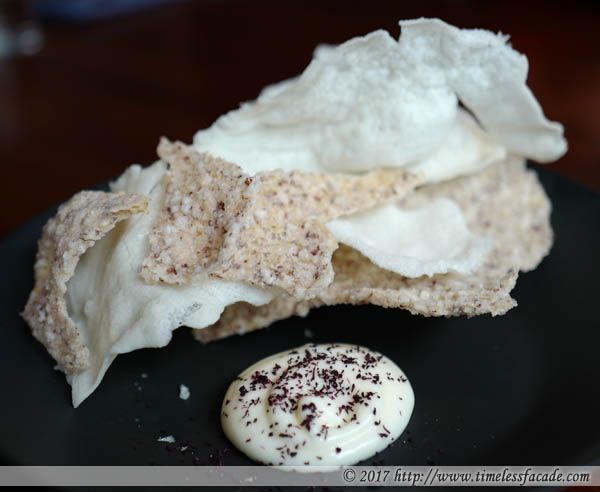 Amuse Bouche
2 varieties of rice crackers to start us off (down from 3 the previous time) and though one variety came across as crisp but rather bland, the other was similar to a lighter version of keropok. Pretty decent start, especially when consumed with the sour cream like dressing on the side.
Adrift Wagyu Burger & Fries
I had the signature wagyu burger without the jalapenos and it looked smaller than I remembered it to be (shrinking portions?). However the patty was excellent - lightly charred on the outside yet moist and chewy on the inside with bits of fat. Absolutely delicious, especially when paired with the melted slice of gruyere cheese atop. The bun needs more time on the grill though in my humble opinion. And eschewing greens for carbohydrates this time round, I had the wedges; crisp on the outside, moist on the inside and flavourful.
Ice Cream Sandwich
Although the ice cream sandwich didn't look like much, it tasted pretty good actually. Smooth chocolate hazelnut ice cream encapsulated by two semi circular chocolate shells and sandwiched between two slices of mildly crumbly biscuit. Not cloyingly sweet. Served with dollops of burbon vanilla cream and sprinkles of candied bacon which gave the dessert an interestingly nice, mildly salty and alcoholic slant.
Bill
3 mains and 2 desserts cost us ~ $127, which isn't too dear a price point for the quality of food in my humble opinion (prices seem to have gone north at time of writing though - $28++ for the burger vs $24++). Portion sizes seem to have shrunk as well but I'll be happy to revisit when I'm craving good burger patties (buns need more work).


Final Verdict:

Ambience: 7.5/10
Service: 7.5/10
Food: 7/10 (8/10 for the burger)
Value for money: 7/10

Overall: 7.25/10

Address: Marina Bay Sands Hotel Lobby Tower 2

Contact: 6688 5657

Opening Hours:

Breakfast
7am - 10:30am

Brunch
Sat & Sun: 12pm to 3pm

Lunch
Mon-Fri: 12pm to 2:30pm

Dinner
Daily 6pm to 10pm

Bar & Lounge
Daily 12pm to 2am

Website: http://www.marinabaysands.com/restaurants/celebrity-chefs/adrift.html