In celebration of Burger Month, Morton's introduced a "Surf & Turf" burger for a limited period of time (May 15 - June 14 2017). Lobster and wagyu beef? I was hooked.


The Place
The bar @ Mortons (a separate, slightly elevated space just across from the main restaurant) wasn't open till 5pm (even though the website stated 12pm) so we had to partake in our meal at a corner of the restaurant where the bar counter is situated (if you're only having burgers, you can't have it in the main dining area).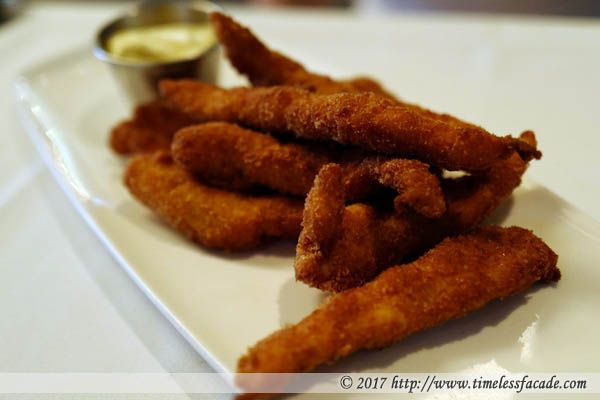 Chicken Goujonettes
Chicken goujonettes are just a fancy name for chicken fingers/tenders/fillets and Morton's rendition came across as decent; crisp on the outside but tender on the inside without coming across as too greasy. However eating everything alone in one seating can prove nauseating so best to share. Didn't quite fancy the mustard mayonnaise sauce by the side.


Surf & Turf
And the burger that drew us to Morton's, Surf & Turf. Thick, perfectly done (medium as per my request) 8oz slab of wagyu patty with bits of fat within for that chewiness. Topped with chunky truffle lobster salad and sandwiched between two deliciously buttery and crisp brioche buns; excellent. Came with a mountain of crisp, fresh tasting fries as well.


Bill
A burger and a plate of chicken fingers cost ~ $88, which isn't cheap by any standard. However the burger is excellent and worth a try even though it costs ~$20 more than the regular USDA Prime Burger (which was a wee bit disappointing the
last time I had it
). I seriously hope Morton's considers having it on the regular menu.
Service was very good as usual but the wait for food this time round was a little long (almost 30 minutes) which was quite a bummer.


Final Verdict:

Ambience: 7/10
Service: 8/10
Food: 7/10 (8/10 for the Surf & Turf burger)
Value for money: 7/10
Overall: 7.25/10

Address: 4th Storey, Mandarin Oriental Singapore

Contact: 6339-3740

Opening Hours:

Bar
Monday - Saturday 5pm - 11pm
Sunday 12pm - 9pm

Dining Room
Monday - Saturday 5:30pm - 11pm
Sunday 12pm - 9pm

Website: http://www.mortons.com/singapore/