And so we decided to stick back with Lung King Heen, having skipped it on our previous Hong Kong trip in favour of the
rather disappointing Sun Tung Lok
. Having booked only ~ 1+ months prior, we ran the risk of not getting a table during our weekend in Hong Kong.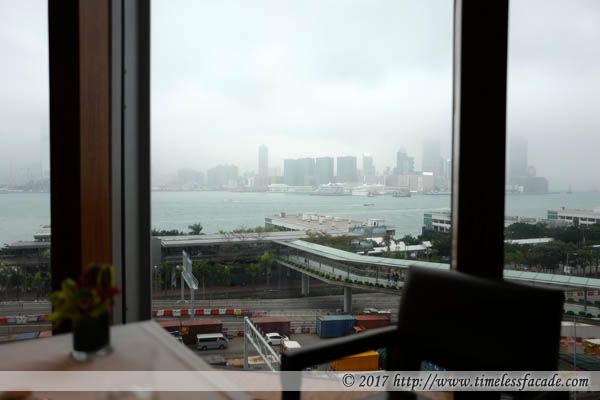 The Place
But thankfully it all worked out and they prioritised us for a window seat (albeit in another section of the dining hall) when someone cancelled. Only pity was the rather foggy weather outlook but I guess that's common in the winter months. Still a great view nontheless.
Crispy Spring Rolls with Lobster and Black Truffle (2 pcs)
This sounded really decadent (not to mention ridiculously expensive @ ~ SGD 62 for 2 pcs) and it was excellent. A crispy exterior belying generous lobster meat and grated aromatic black truffle. Only small gripe I had was that the spring roll did seem a wee bit overly deep fried.
Abalone Puff
One of our must order items, the abalone puff sported a buttery base and a mildly chewy whole abalone (small one though) served on a bed of minced pork. Delicious.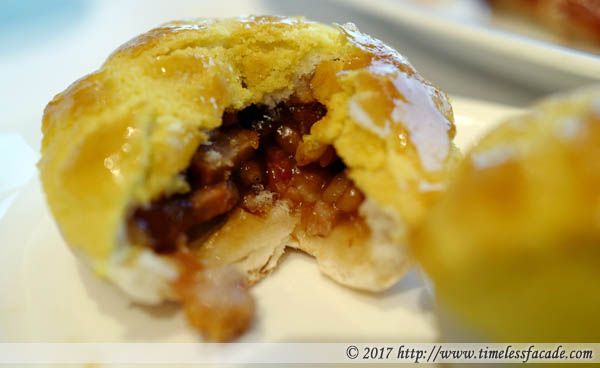 BBQ Pork Bun
And for our perennial favourite, the humble BBQ pork bun.Not too sweet BBQ pork filling with pine nuts for added crunch and a crusty, mildly sweet top. Still the best I've tried to date (and yes, it is better than the much vaunted ones from Tim Ho Wan).


Braised Tofu with Morel Mushrooms and Vegetables
This dish was average at best; smooth but rather bland tofu coupled with overly starchy sauce (I could make out small globs of starch). Perhaps the kitchen was eager to close as it was already last order. Still not acceptable though.


Lung King Heen Roast Chicken
Thankfully the namesake roast chicken made up for the prior disappointment. With an option to have it deboned (newly introduced and perfect for lazy people like us), the skin was crackling crisp while the meat, tender and juicy. Served with lightly salted lotus root chips and lime sauce for that shot of zest to help "neutralise" any misplaced notions of nausea.


Bill
Lunch cost us to the tune of HKD 1329.90 (~ SGD 230 at time of writing) and it was money well spent (well, with the exception of the tofu). One bummer is that prices have been steadily heading north and they decided to do away with the
petit fours
.
Final Verdict:
Ambience: 7.5/10
Service: 7.5/10
Food: 8/10 (9/10 for the BBQ pork buns)
Value for money: 7/10
Overall: 7.5/10
Address: 4th Floor, Four Seasons Hotel Hong Kong
Contact: (852) 3196-8880
Opening Hours:
Lunch
Sundays and public holidays
11:30 am – 3:00 pm
Monday to Saturday
12:00 noon – 2:30 pm
Dinner
Daily 6:00 pm – 10:30 pm
Website: http://www.fourseasons.com/hongkong/dining/lung_king_heen