CUT Marina Bay Sands recently earned a star in the 2017 Michelin Singapore edition and we had elevated expectations of a great steak dinner (hopfully even surpassing that of
Morton's in Singapore
).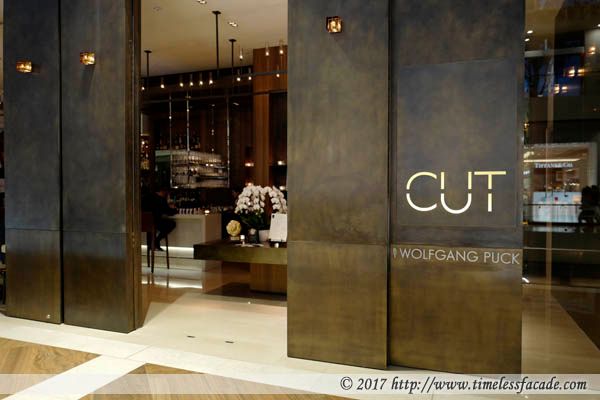 The Place
We were seated in a semi private enclave with just a single table at one corner of the dining room. I honestly don't know what to make of the decor except that it struck me as rather clinical, unlike that of
Peter Luger Steak House
in New York, which had a cosy and inviting feel to it.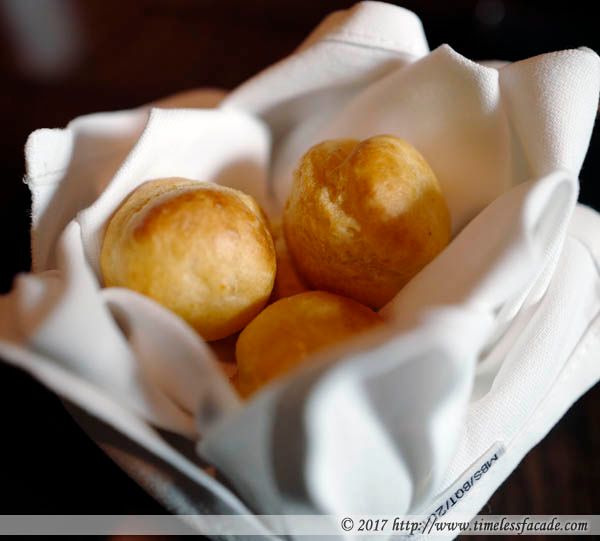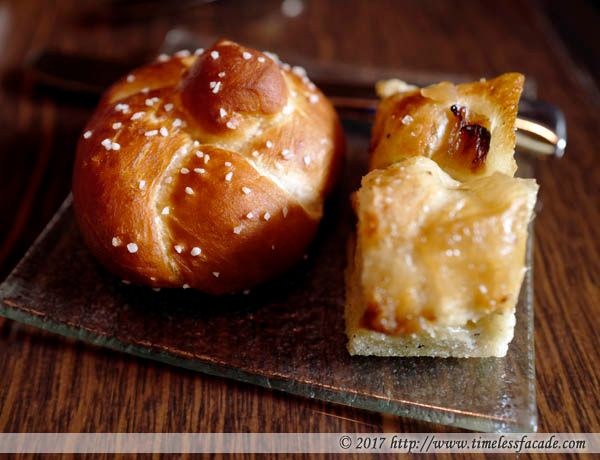 Complimentary Bread
There were 3 rounds of complimentary bread; bread sticks, cheese puffs and an assortment of bread from a mobile tray. The sticks were nice - crisp with a strong cheese taste (tasted like goat cheese) while the puffs came across as light, fluffy and mildy cheesey. From the tray I had the pretzel (love the texture - soft, dense yet chewy but extremely salty!) and the onion bread (moist but a touch oily). So much bread to fill you up!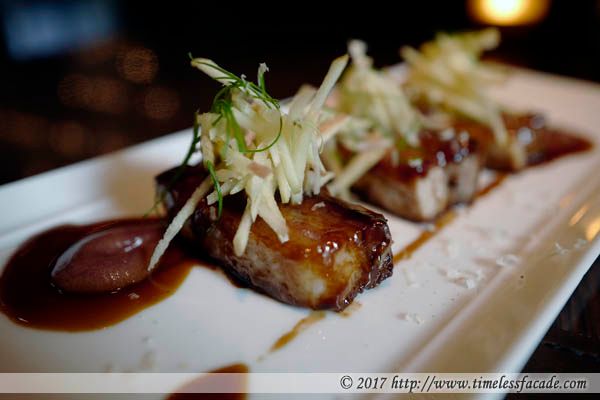 Maple Glazed Pork Belly, Fuji Apple-Yali Pear Salad, Sesame-Orange Dressing
This looked absolutely delicious with a sumptous fat to meat ratio of ~50%. Coupled with a rich layer of sweet maple glaze, it was a sure fire recipe for nausea. Thank god for the sliced apple and pear salad, though sweet, provided a nice refreshing crunch and much needed moisture. I personally think a tarter apple, ie. Granny Smith's, would work better though.


Alaskan King Crab & Shrimp "Louis" Cocktail, Spicy Tomato-Horseradish
This was a half sized portion because the chef split the original portion into 2 for sharing. Although I liked the crustecean combination of king crab and prawn together (with a medley of vegetables thrown in), it wasn't spectacular. I've definitely had better.


Double Thick Iberico Pork Chop, Rhubarb "Moustarda"
I liked how the surface of the pork chop was crisp (a wee bit to burnt though) while the meat (and fat) retained its tenderness and flavour. The meat was also well seasoned with a faint tartness (probably from the rhubarb). Decent but not as good as
Gunther's
rendition.
Hokkaido "Snow", Tomakomai, Filet Mignon
I had high hopes for this small piece (120g) of premium Japanese steak (heck you would too if it cost $245++) but unfortunately it was disappointing to say the least. Although the marbling was very good, the meat was a little too soft for my liking at medium doneness and it lacked the beefiness that I personally like.


Cavatappi Pasta "Mac & Cheese", White Cheddar
It was our first experience with cavatappi (helical tube/cockscrew shaped pasta) but it wasn't a good one. The dish came across as very oily with a mild white cheddar cheese taste. We gave up after a couple of mouthfuls.
Bird Bird
definitely does a much better rendition.
Kaya Baked Alaska
Ironically, the Kaya Baked Alaska was the star of the evening. Reminiscent of a durian shell with its spiky edges, this dessert was essentially coconut cake with pandan ice cream and coconut sorbet encapsulated within a meringue on a crumble base and quickly torched. Deliciously sweet and I love how all the flavours come together to remind me of Kaya. Served with a "side" of coffee crumble.


Petit Fours
And petit fours to end off our meal. No great shakes.


Bill
The both of us spent ~$508 for a rather dissatisfying dinner. Service was good but food in general wasn't great and I fail to see how or why CUT was awarded a Michelin star. At this price point, I am way more inclined to stuff myself silly at
Gunther's
.
Final Verdict:
Ambience: 6.5/10 (can get a little noisy and dark)
Service: 7.5/10
Food: 6/10 (7.5/10 for the
Kaya
Baked Alaska)
Value for money: 4/10
Overall: 6/10
Address: B1-71, Galleria Level, The Shoppes at Marina Bay Sands
Contact: 6688 8517
Opening Hours:
Sun - Thurs: 5:30pm - 10:00pm
Fri & Sat: 5:30pm - 11:00pm
Website: http://www.marinabaysands.com/restaurants/celebrity-chefs/cut.html