Since we were staying at the Hilton Queenstown Resort & Spa for almost a week, we decided to have dinner at one of the in house restaurants, Wakatipu Grill (which also happens to be the breakfast restaurant). Our first attempt was a walk in but was promptly turned away due to a full house - very promising. So we made reservations.
The Place
We had a choice booth seat just in front of the partially open kitchen where I could see the chefs getting busy and calling for service. But it also meant that some of the heat from the kitchen was invariably passed on to us; it was rather warm even though temperatures outside were hovering around single digits. In the day, it's actually nicer to sit outside where the warmers are because you can have a great view of Lake Wakatipu.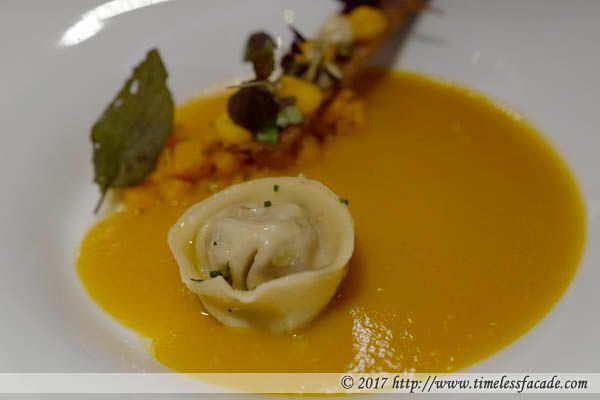 Smoked Pumpkin Soup, Confit Duck Leg Tortellini, Rye Toast, Cognac Creme and Crispy Sage
This was dish #1 of the Veuve Clicquot menu. As fanciful as it sounded, the soup was nothing to shout about. There was a certain smokiness to the viscous pumpkin soup but I couldn't quite make out any taste of cognac. The tortellini shell was also a tad too thick for my liking.


Pan Seared Scallops, Artichoke, Chorizo, Potato Risotto, Lemon, Garlic and Parsley Vinaigrette, Crispy Artichoke and Squid Ink Tuile
We had this as a side order and presentation wise, it was excellent. However the scallops, though huge and seeming well seared on the surface, were a little too soft in the centre for my liking. They also lacked the sweetness that I would usually associate with quality scallops but instead came across as a tad overly salty. I liked the savoury potato risotto with chorizo though.


Free Range Chicken Breast, Charred Pumpkin, Pumpkin Seeds, Malibu, Tender Stem Broccolini, Crushed Macadamia, Toasted Coconut and Thai Green Curry Inspired Sauce
Dish #2 of the Veuve Clicquot menu. Though the chicken breast came across as tender (but bland), the flavours of this seemingly fusion dish didn't quite work out for me. It was just a mish mash of flavours that I can't seem to describe. Definitely not my cup of tea.


Cut Of The Week - Ribeye
We ordered this for medium but it came looking more like medium well instead. Nonetheless, the 21 day dry aged ribeye was reasonably tender with an appropriate amount of fat. However it lacked that beefiness that I like so overall just an average piece of steak in my humble opinion.
Came with a side of Macaroni Cheese which was one of the most lacklustre renditions I've had to date. It was like boiled macaroni topped with cheese sauce and garnish.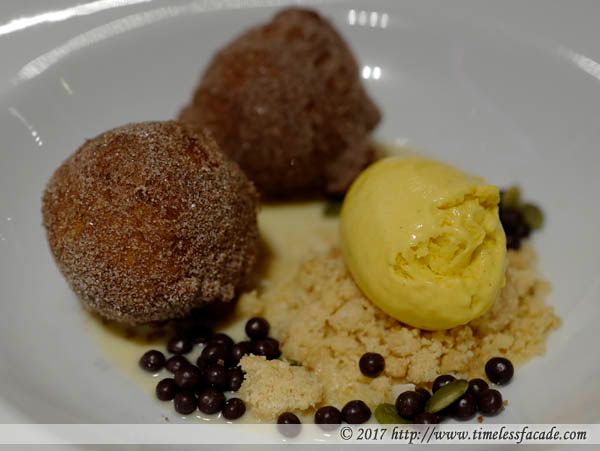 Pumpkin Doughnut, White Choclate and Maple Sauce, Pumpkin Ice Cream, Almond Crumb and Mascarpone
And finally dish #3 - dessert. I'm not usually a fan of doughnuts (except piping hot Krispy Kremes in winter) but this was acceptable. The doughnut was soft and had a mild pumpkin taste and sweetness (which I attribute more to the sugar granules coated all over). Couple that with chocolate and maple sauce and ice cream and you get a sweet (but not necessarily good) ending to the meal.
Bill
Dinner for the both of us came up to just under NZD 150 which probably isn't too expensive by Queenstown standards, especially at a relatively upmarket restaurant in a 5 star hotel. However food hovered around the average and I most probably won't return. Service was friendly though.


Final Verdict:

Ambience: 7/10
Service: 7/10
Food: 6/10
Value for money: 6/10

Overall: 6.5/10

Address: 79 Peninsula Rd, Kelvin Heights, Queenstown 9300, New Zealand

Contact: +64 3-450 9400

Opening Hours:

Breakfast

Monday - Friday: 6:00am - 10:30am

Saturday - Sunday: 6:00am - 11:00am

High Tea

Sundays 1pm - 4pm

Dinner

7 days a week 6:00pm - 9:00pm

Website: https://www.kawarauvillage.com/wakatipu-grill-queenstown