We deviated from our
usual CNY eve reunion dinner venue
. But with good reason. We had catered quite a spread from them for our dinner on the first day of CNY so it made more sense to vary the food. And so we settled on Wan Hao @ Marriott Tang Plaza; for the first seating at 6pm.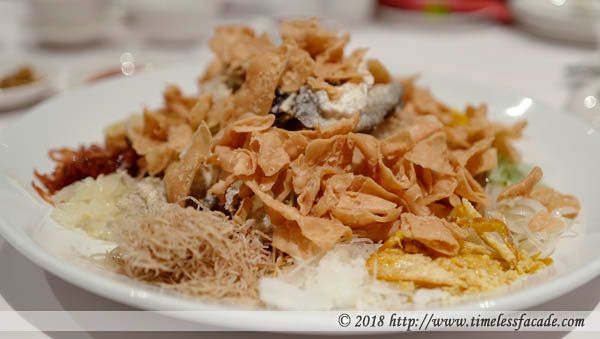 Salmon and Crispy Fish Skin Yu Sheng
What was interesting about this yusheng was the addition of fried fish skin, which gave it an added crisp on top of the crackers. However I found this dish to be overly sweet as a whole, probably due to the ridiculously sweet candied kumquat. Still decent nonetheless but definitely a few notches below that of
Imperial Treasure Cantonese's
in my humble opinion.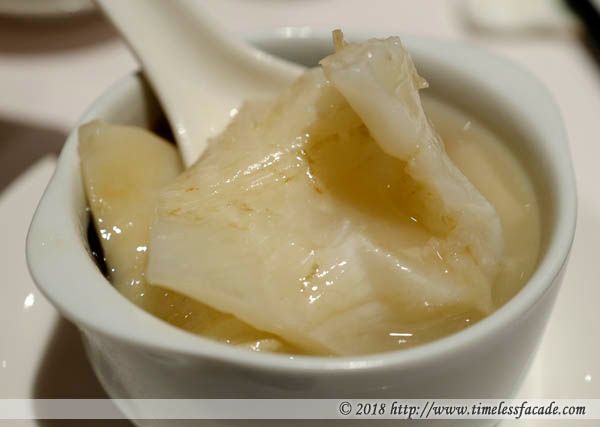 Braised Fish Maw in Superior Stock with Fungus and Wolfberry
I don't know if it's a good thing or bad thing but this soup tasted alot like Campbell's Cream of Chicken soup, albeit more refined. And it was rich without coming across as satiating. Coupled with a huge piece of dried fish maw (not the fried kind that is usually served), it received positive reviews around the table.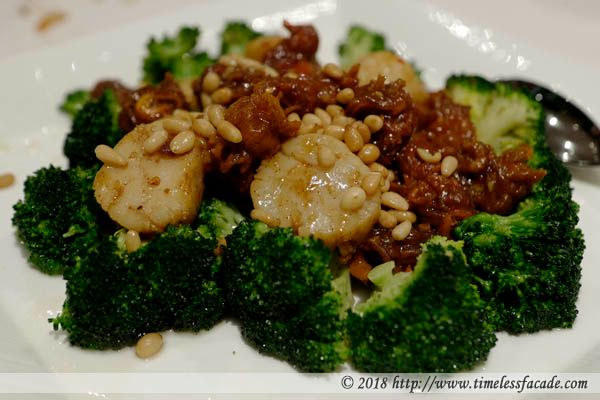 Stir-fried Scallop, Coral Clam, Broccoli and Pine Nuts in XO Sauce
The scallops were sizeable and relatively sweet but the broccoli did come across as a tad too soft for my liking. I liked the coral clam though; mildly spicy with a mild chewiness to them.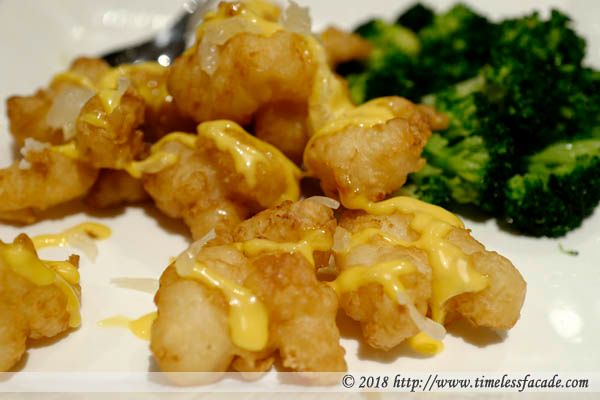 Deep-fried Lobster Meat with Yuzu Mayonnaise and Broccoli
This was an addition to our set and it turned out to be most disappointing. The lobster was coated in an overly thick layer of batter and deep fried; the meat came across as too soft and void of any crustacean sweetness. To compound matters, I couldn't quite make out any taste of yuzu in the mayonnaise. A literal waste of lobster meat if you ask me.


Steamed Red Garoupa with Fermented Soya Bean and Chicken Floss
On to the more positive stuff. The steamed garoupa was fresh and topped with fermented soya bean and chicken floss, allowing the mild sweetness to contrast with the saltiness from the soya sauce. I'm not a fish person but I think this was pretty good. Not to mention that it was quite a size and alot of effort went into trying to finish it. And by that I mean belly space.


Wan Hao Signature Crispy Chicken
Wan Hao's eponymous roasted chicken. It definitely wasn't as good as
Lung King Heen's
rendition in my humble opinion but it was very decent. The meat was tender and juicy but the skin could use a little more crispiness. The sweet potato fries atop were pretty good though; sweet, crisp and a tad spicy.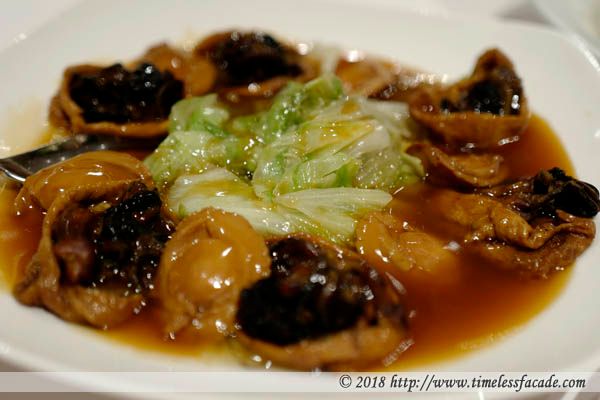 Stewed 10-head Abalone, Dried Oyster and Mushroom wrapped in
Beancurd Skin, Black Moss and Seasonal Greens
Not a fan of dried oyster and I think too much oyster sauce went into this dish, giving rise to one huge plate of nausea. Definitely not something I would order again if I can help it.


Wok-fried Glutinous Rice and Chinese Sausage wrapped in
Lotus Leaf with Crispy Rice
This sounded promising but failed to deliver. It was almost like eating steamed dumpling with the soft and mushy steamed glutinous rice with a rather strong taste of waxed meat. Topped with rice crispies to perhaps compensate for the lack of texture? This dish lacked fragrance as well. In short, not great. We had a few spoonfuls and gave up.


Deep-fried Nian Gao Pancake with Yam Paste
I actually like to eat nian gao (年糕) but this was way too oily and I could taste grease in every bite. I think the least they could do would be to blot out the oil with paper.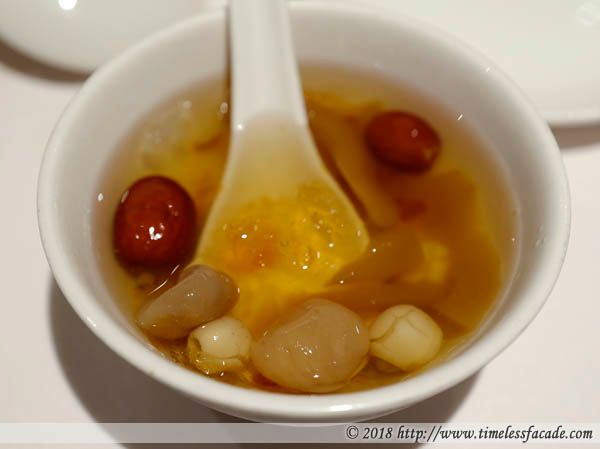 Chilled Peach Resin with Sea Coconut, Red Dates and Dried Longan
A more upmarket version of cheng tng (清汤). Decent and it was nice to have something cold to end off the meal.
Dinner for the 6 of us came up to about $900, which was surprising given the quantity of food and definitely cheaper than our usual checks at Imperial Treasure. Food quality however, is a case of hits and misses and service, though decent, did seem a little lacking at times. For instance, when the fish was served, they didn't cut it up like the other restaurants. I guess its back to Imperial Treasure Cantonese next year...


Final Verdict:

Ambience: 7/10
Service: 6.5/10
Food: 6.5/10
Value for money: 7/10

Overall: 6.75/10

Address: 3F Singapore Marriott Tang Plaza Hotel

Contact: 6831 4605

Opening Hours:

Lunch: 12PM to 3PM
Dinner: 6.30PM to 10.30PM
Monday to Friday

Lunch: 11.30AM to 3PM
Dinner: 6.30PM to 10.30PM
Saturday , Sunday and Public Holiday

Website: http://www.singaporemarriott.com/restaurant/wan-hao-chinese-restaurant/