The Bird Southern Table And Bar (or Yardbird) opened with much fanfare a few months back and being a big fan of fried chicken and waffles, I was most eager to try.


The Place
Located on B1 of the upmarket Marina Bay Sands, The Bird's interior came across as rather cosy and inviting with the hanging neon lights, wooden beams and flooring and leather back sofa seats. I did find the noise level a tad high though, especially with the full house and rather loud music playing in the background. Definitely not a great place to have a conversation or for some peace and quiet for that matter.


Skillet Cornbread
This sounded really good on the menu but in reality it didn't quite impress. The bread was crumbly but I couldn't quite make out the taste of corn; the jalapeno taste dominated. Only saving grace, in my humble opinion, was the dollop of mildly sweet honey butter atop which was very rich and smooth.
Shrimp 'N' Grits
I'm not quite a fan of grits (treated corn) but this was pretty decent; crunchy and sizeable prawns soaked in a savoury chicken jus and topped with slices of aged ham.


Chicken 'N' Watermelon 'N' Waffles
The fried chicken was juicy and well marinated with a nice crisp skin. Best eaten on it's own and better than the now defunct
Bird Bird
but not as good as
Wakadori Jidai Naruto Honten (若鶏時代なると本店)
in my humble opinion. The side of watermelon proved to be interesting; mildly spicy, sweet yet sour at the same time. Not quite my cup of tea. I liked the waffles though - crisp, fragrant and went well with the bourbon maple syrup.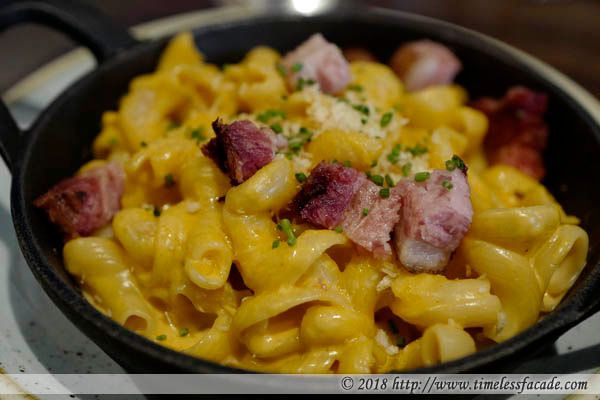 Macaroni & Cheese
And the ubiquitous mac & cheese with an addition of bacon (+$5). The torchio pasta came across as al dente but I found the cheese a little bland and runny. Thank god for the chunks of bacon, which imbued the dish with a nice saltiness.
Bill
The 6 of us chalked up about $310 for brunch, which wasn't too expensive but overall food quality wasn't great. Service was decent but I don't think I'll return anytime soon.


Final Verdict:

Ambience: 6/10
Service: 7/10
Food: 6/10 (7/10 for the fried chicken and shrimp)
Value for money: 6/10

Overall: 6.25/10

Address: B1-07 Galleria Level, The Shoppes at Marina Bay Sands

Contact: 6688 9959

Opening Hours:

LUNCH
Monday - Friday: 11:00am - 4:00pm

DINNER
Daily: 4:00pm - 11:00pm

DRINKS & LIGHT SNACKS
Monday - Friday: From 11:00am till late
Saturday - Sunday: From 10:00am till late

WEEKEND BRUNCH
SAT & SUN: 10:00am - 4:00pm

Website: https://www.marinabaysands.com/restaurants/american/the-bird-southern-table-and-bar.html