Contrary to the title, this was just one of the many visits we made to DB Bistro (was just too lazy to take photos or blog about it).


The Place
DB Bistro's interior is reminiscent of a classic Parisian brasserie, albeit more contemporary. I personally like the leather booth seats that line the middle and corners of the restaurant.


Complimentary Bread
We started off with some rather dry foccacia and baguette (thank god for the butter!), which helped to stave off the hunger pangs.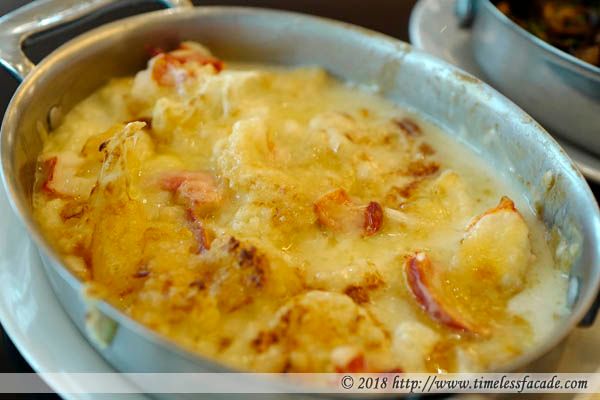 Lobster & Cauliflower Gratin
The side of Lobster & Cauliflower Gratin was pretty good; chunks of lobster and cauliflower in a cheesey, gooey gratin. I personally would have liked it a little richer and less watery but still good nonetheless.


Wild Mushrooms
Another of our side, the wild mushrooms provided an earthy taste to minimize the nausea. Rather generous portions.


Spaghetti "Nero"
Al dente squid ink pasta served with sizeable chunks of prawn and calamari and topped with a mildly spicy, savoury lobster sauce and cheese. Pretty good in my humble opinion.


Maine Lobster Roll
The Maine Lobster Roll came across as decent. The bun was slathered in butter and pan fried but came across as a wee bit too soft (probably been sitting around for a while) whilst the chunks of lobster had more of a vegetable taste to them due to the avacado and tomato served alongside. Would have preferred a pure, unadulterated crustecean taste instead. Shoestring fries on the side were nice and crisp but a tad too dry for my liking.


Durian "Royale" Soufflé
The king and queen of fruits in one dessert; Mao Shan Wang (猫山王) souffle with mangosteen ice cream. The souffle came across as fluffy with a relatively strong smell and taste of durian whilst the ice cream was a little tart and creamy, which provided a nice counterbalance.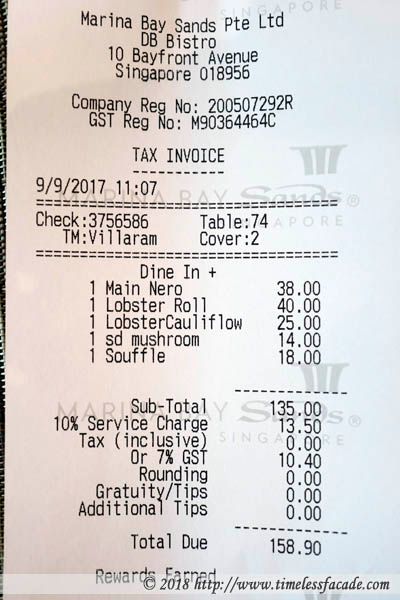 Bill
Food was very decent but pricing is definitely on the high side (branding + location I guess). Service was excellent.


Final Verdict:

Ambience: 7.5/10
Service: 8/10
Food: 7/10
Value for money: 6.5/10

Overall: 7.25/10

Address: B1-48, Galleria Level, The Shoppes at Marina Bay Sands

Contact: 6688 8525

Opening Hours:

LUNCH
MON, TUE, WED, THU, FRI: 12:00pm - 5:30pm

WEEKEND BRUNCH
SAT, SUN: 11:00am - 5:30pm

DINNER
SUN, MON: 5:30pm - 10:00pm
TUE, WED, THU, FRI, SAT: 5:30pm - 11:00pm

Brunch is served on weekends only.

Website: https://www.dbbistro.com/singapore/