We were on a weekend trip to Hong Kong for a break but
our favourite restaurant
was full so we thought we would give Tin Lung Heen (or TLH for short) a shot since they still had a table on a Saturday afternoon.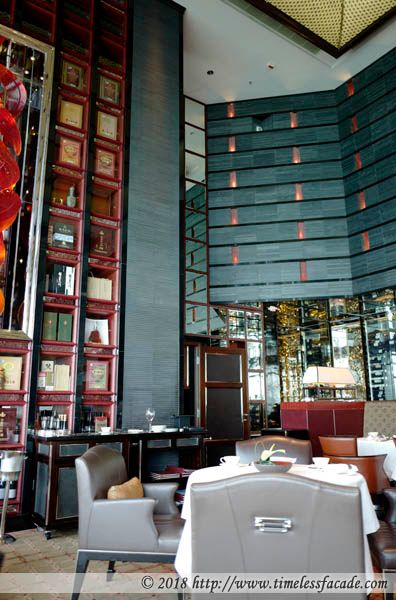 The Place & View
Located on the 102nd floor of the posh Ritz Carlton, TLH boasts a high ceiling coupled with floor to ceiling windows which showcase the awesome view of the harbour and sea (which is why window seats are a must and have to be requested way in advance). Definitely the highest restaurant that I've dined at with one of the best views I've seen (coming in 2nd place is 100 Century Avenue Restaurant @
Park Hyatt Shanghai
). Oh and before I forget, it currently holds 2 Michelin stars.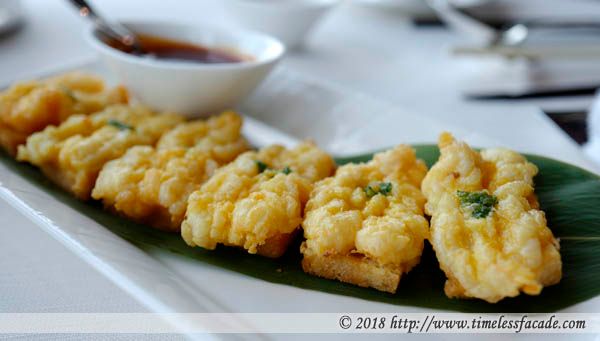 Deep Fried Shrimp Toast
A signature of Tin Lung Heen and it sounded really good on paper. Alas it wasn't quite up to scratch. I appreciated the rather generous serving of shrimp per slice but the crisp toast had an oily aftertaste that got worse as it cooled down. The sweet and sour sauce helped to mask the greasiness but it got so nauseating towards the end that we left a few slices untouched.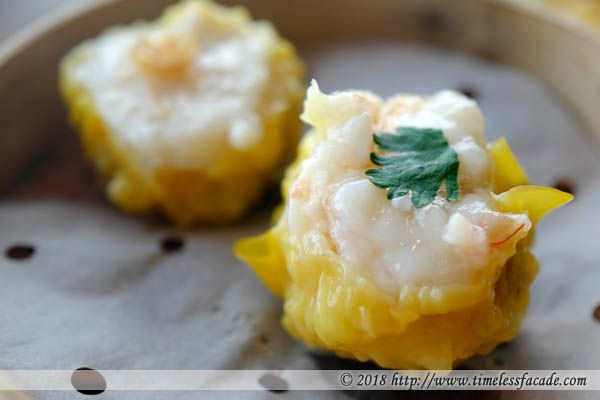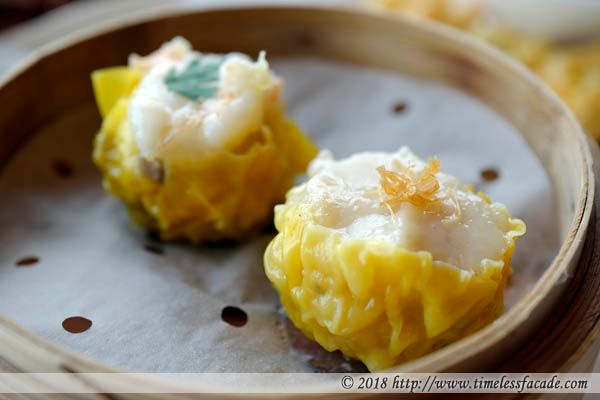 Steamed Pork and Shrimp Dumpling with Scallop and Conpoy &
Steamed Pork and Shrimp Dumpling with Prawn and Coriander
There was one of each so we ordered 2 baskets to get a taste of both. And honestly, though sizeable, neither was anything to shout about.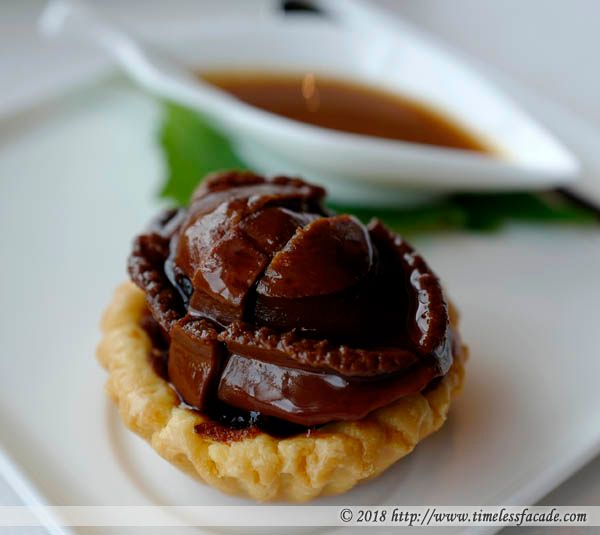 Baked Middle East Yoshihama Abalone Puff
This has got to be the best abalone puff I've eaten so far and even edges out the one from
Lung King Heen
. For starters, the abalone was a lot bigger (quite a fair bit more expensive as well) and sat on a bed of flaky, buttery pastry. The layer of minced pork wedged between the abalone and tart had a mild, peppery taste to it. Overall the flavours were more intense and delicious.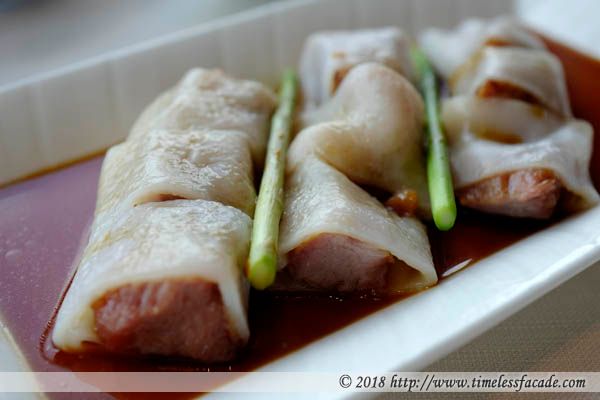 Steamed Rice Roll with Barbecued Pork with Osmanthus Flower Honey
Although the cheong fun came across as overly thick, it was rather smooth and silky with huge chunks of BBQ pork. And it was literally a chunk, not chopped or diced meat but one whole big piece. Feels more like BBQ pork with rice roll, not the other way around. No complaints though.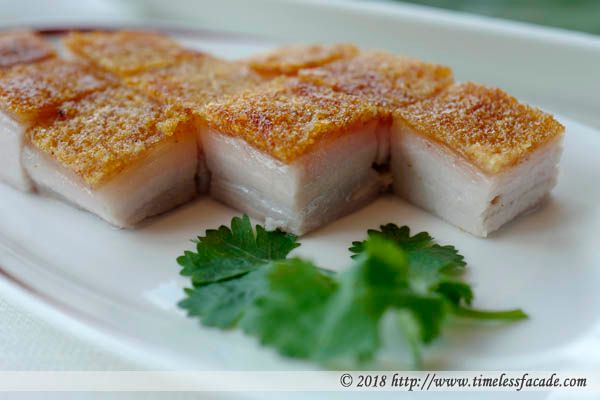 Roasted Crispy Pork Belly
The siew yoke was probably one of, if not the best I've eaten in a long time. Crackling crisp without coming across as too porky or oily or salty and the skin being overly burnt. Almost perfection. Personally would have preferred it cut into slightly smaller cubes though.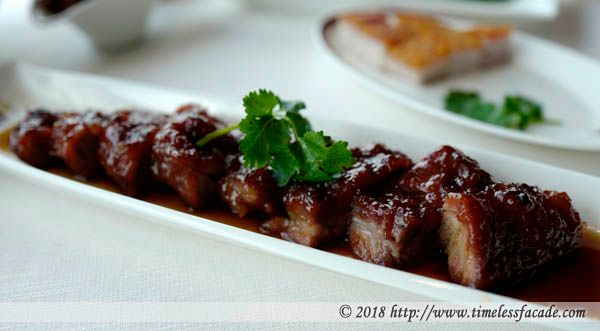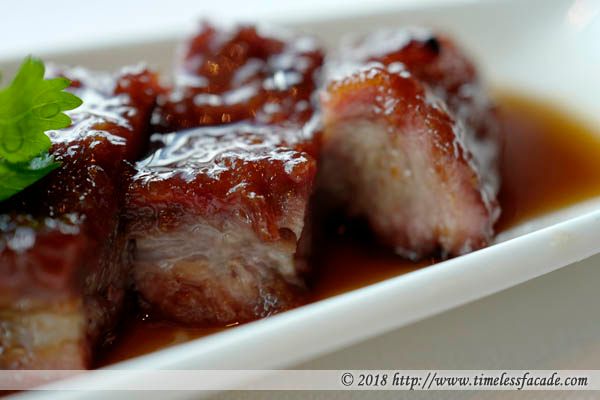 Barbecued Iberian Pork with Honey
Another of Tin Lung Heen's signature dish and a very famous one at that - advance reservations need to be made and you can request for one portion (HKD 356) or half a portion. Being the greedy char siew lover that I was, I went for the full one portion (~8 to 10 thick chunks of meat)
The verdict? It was good, but not mindblowing. Sure, the pork was very tender and beautifully glazed with honey (which surprisingly wasn't overly sweet) but I personally felt it lacked depth (maybe a little charred edges would help?)
Traditional Baked Egg Custard Tart
Having just had the egg tarts from Kam Wah in the morning, comparisons were inevitable. Pricing aside, TLH's rendition had more finesse, especially on the custard (Kam Wah's version was rougher around the edges) but I personally preferred the latter's as it had a stronger oven baked aroma and taste to it.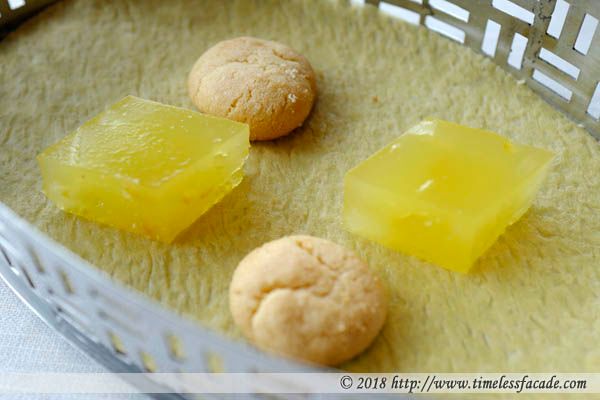 Petit Fours
Peanut cookies and osmanthus jelly to end off; something that
Lung King Heen
seems to have done away with.
Bill
Overall the food was a mixture of hits and misses. The Abalone Puff and Crispy Pork Belly were standouts and so is the view. Service was excellent as well. But at the same price point (~SGD 280), I'm inclined to stick with Lung King Heen for a more consistent quality throughout.


Final Verdict:

Ambience: 9/10
Service: 7.5/10
Food: 7.5/10 (9/10 for the Abalone Tart and 8/10 for the Pork Belly)
Value for money: 6/10

Overall: 7.5/10

Address: Level 102, International Commerce Centre

Contact: (852) 2263 2270

Opening Hours:

Monday - Friday
12 p.m. - 2:30 p.m.

Saturday - Sunday
11:30 a.m. - 3 p.m.

Seven Days a Week
6 p.m. - 10:30 p.m.

Website: http://www.ritzcarlton.com/en/hotels/china/hong-kong/dining/tin-lung-heen